The UFC announced earlier this week that Bobby Green had pulled out of his UFC 169 against Abel Trujillo with an injury and replacing Green would be former WEC lightweight champion Jamie Varner.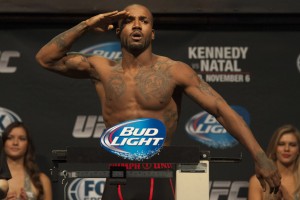 Following the announcement of Green pulling out of the fight, the UFC lightweight went to Twitter to explain why he decided to pull out of the February 1st card.
"I apologize to my peps for pulling out of the fight," Green tweeted. "I'm having some stomach issues. I need to get checked out. I just don't want to give u guys a [expletive] show.
"I haven't been a 100 in any of these fights now that I'm 3-0, I need to start being more serious about my career. I'm mean come on, I've been doing too much. 2 fights in 31 days and was going to do another in 30 days. I need to stop gambling. Were talking about the best fighters in the world, but as soon as I get healthy, I will fight anyone the UFC asks me too."
Green (22-5) is currently on a seven fight winning streak and two of his three wins in the UFC have come by stoppage, including his submission of the night victory against Jacob Volkmann at UFC 156. In the latest UFC media rankings, he is ranked as the #12 lightweight and should get a top 15-20 opponent in his next fight in the UFC.