The tenth season of Bellator MMA is approaching and the organization announced the eight man field for the heavyweight tournament on Thursday.
The field features seven fighters that have previously been entered into a Bellator heavyweight tournament, including former champion Alexander Volkov.
The opening round bouts will take place at Bellator 111 on March 7th at the WinStar World Casino in Thackerville, Oklahoma, with the semifinals tentatively scheduled for April 4th and final targeted for May 9th.
The complete tournament bracket and breakdown of the fighters in the tournament are below.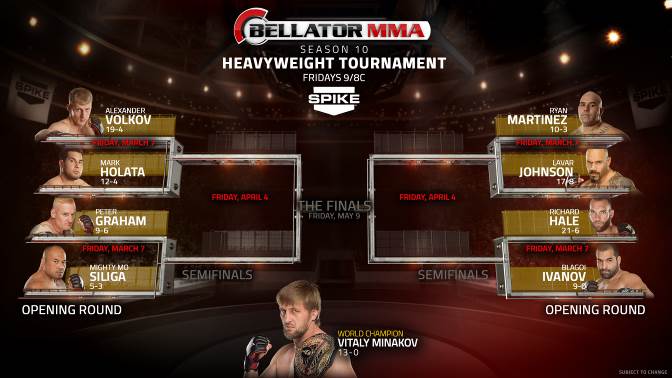 Alexander Volkov (19-4)
The former Bellator heavyweight champion returns and will look to earn a shot to reclaim the Bellator title. He became the heavyweight champion at the end of 2012 when he defeated Rich Hale in the season seven tournament final and won the vacant heavyweight title.
In his first title defense, he was defeated by 2013 Summer Series Tournament winner Vitaly Minako and the defeat snapped a ten fight winning streak. He had not been defeated since 2010 and it was his first career defeat by knockout.
Mark Holata (12-4)
Holota will be fighting in his home state of Oklahoma in the opening round against Volkov and this will be his third Bellator heavyweight tournament. He has been eliminated in the opening rounds in his previous tournament appearances, with the defeats coming against Ron Sparks and Vinicius Spartan.
He does have three wins inside the Bellator cage, including a knockout win over now UFC heavyweight Shawn Jordan at Bellator 31 in 2010. He has only made it out of the first round in six of his sixteen fights and his last four fights have ended in the first round.
Peter Graham (10-6)
After an injury forced Spartan out of the Summer Series Tournament Final, Graham was placed in the final to meet Cheick Kongo. Graham was riding a nine fight winning streak and won his Bellator debut against season five tournament winner Eric Prindle.
He would lose a decision to Kongo and it was his first defeat since 2010. Prior to entering Bellator last year, he had never been to a decision in his career as all of his fights had ended in the first or second round.
Mighty Mo Siliga (5-3)
After starting his career 2-3, Siliga has won back to back fights in Bellator and has been placed into the season ten tournament. His most recent win in Bellator came in October as he submitted Sparks with a keylock submission in the first round.
The victory over Sparks was his third victory to take place in the first round and he has only made it out of the first round in two fights. If you were seeding this tournament, he would likely be the number eight seed. He has been given a huge opportunity and we will have to wait and see what he does with this opportunity.
Ryan Martinez (10-3)
Martinez made his Bellator debut in 2012 and lost his debut to Mike Wessel by split decision at Bellator 73. He would end up winning his next two fights, before being a last minute replacement into the 2013 Summer Series Tournament.
After scoring a knockout victory over Hale in the opening round of the four man tournament, he was defeated in the third round of the finals against Minakov. He has been out of action since his fight with Minakov with a hand injury, and has fully recovered from the injury.
Lavar Johnson (17-8)
The former Strikeforce and UFC heavyweight made his Bellator debut in the season nine tournament and was defeated in 23 seconds by Spartan. It was his third straight defeat and has lost five of his last seven fights.
All of his career victories have come by stoppage, with fifteen of his wins coming by TKO/KO. In fact, thirteen of his wins have come in the first round and has only made it out of the first round on five occasions.
Rich Hale (21-6)
Hale will be entering his four Bellator tournament and this will be his third heavyweight tournament. He was a finalist during season seven and was defeated by Volkov in the final, which was for the vacant heavyweight title.
Following his defeat against Volkov, he returned to the Bellator cage in the 2013 Summer Series and was knocked out for the third time in his career by Martinez. He did not compete inside Bellator during season nine and this will be his first fight since June of last year.
Blagoi Ivanov (9-0, 1NC)
Ivanov returns to the Bellator tournament for the first time since season five in 2011. During that tournament, he won his opening round bout against Zak Jensen. However, he had to pull out of the tournament with an injury.
He returned to MMA last year after he was stab during a bar fight and earned submission victories over Manny Lara and Keith Bell during season nine. He has only been to the decision once in his career and he is the fighter to keep an eye out for in this tournament.