Chris Leben has decided to call it a career as "The Crippler" announced his retirement from mixed martial arts on "The MMA Hour" on MMAFighting.com today.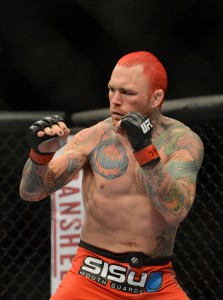 During his appearance on "The MMA Hour," he stated that he had a wonderful career and is happy he could stay in the UFC as long as he did.
"I've had just a wonderful career," Leben said. "I didn't start fighting until I was 21 years old. Back then you could actually get into the UFC, win and do well just on being a tough guy. I was a tough guy. The game has been evolving and changing so much, so rapidly, that I'm actually pretty happy that I can say I was in it for as long as I was in it."
Leben (22-11) was on the inaugural season of "The Ultimate Fighter" and went 12-10 in his 22 fight UFC career. During his UFC career, he won a fight night bonus on six occasions and four of those were for the knockout of the night.
Prior to officially announcing his retirement, Leben tweeted that he was going to have the opportunity to become a coach.
I'm super excited. Looks like I'm getting my dream job being the team coach at victory biggest gym inSD and also teaching some classes.

— Chris Leben (@cripplerufc) January 20, 2014
One of the most memorable moments for Leben's career came back in 2010 when he defeated Aaron Simpson at The Ultimate Fighter 11 Finale and stepped backed into the cage eleven days later and defeated Yoshihiro Akiyama by triangle choke submission at UFC 116.