Former Bellator MMA season one fighter Troy Gerhart has signed with Xtreme Fighting Championships and will compete in the organization as a featherweight.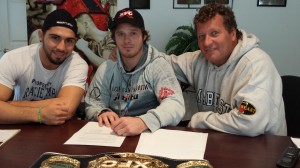 The signing was announced by the XFC on Thursday afternoon in a press release.
"Troy has fought at Lightweight for us in the past," XFC President John Prisco said. "He's now going to drop to featherweight and honestly, he's more focused now than ever before in his career. He has everything it takes to be a future XFC champion. Troy is going to be a beast in this weight class and I for one can't wait to see him make his debut."
Gerhart (6-2) made his professional mixed martial arts debut in 2007 and started his career with five wins, including a first round knockout victory at XFC 6 against Eric Flores.
He went 1-1 in Bellator MMA during the inaugural season of the organization. After losing to current Bellator MMA fighter Patrick Cenoble in 2010 at AOF 7, his next fight would not take place for three years as he defeated Chris Thorne by TKO in the first round at RFC 29 in November.
"Man, this is a good feeling," Gerhart said. "It's such a weight off my shoulders to know I can concentrate on my training and not have to worry about where my next fight is coming from. The XFC has grown so much since I fought for them in 2008, and right now the featherweight division is the toughest one in the company. It's full of potential fights that can further my career. I can't wait to get started!"
Gerhart is expected to compete in the XFC in early 2014 and the organization is expected to announce its first event of 2014 in the near future.