Take a look back at the past seven days in mixed martial arts, which included fight cards from the UFC, Maximum Fighting Championships, and the World Series of Fighting.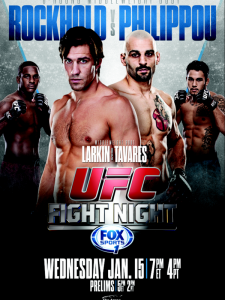 Along with looking back at the fights over the past seven days, this week's review includes the latest news, TV ratings, and fight announcements.
The MMA Recap
1. UFC Fight Night 35 took place on Wednesday, and in the main event, Luke Rockhold (11-2) earned his first UFC victory by flattening Costas Philippou (12-4, 1 NC) with a well-placed body kick in the first round.
Also on the main card, Brad Tavares (12-1) showcased his striking and extended his winning streak in the UFC to five with a unanimous decision victory over Lorenz Larkin (14-2, 1 NC). Bantamweight T.J. Dillashaw (9-2) controlled every aspect of his fight against Mike Easton (13-4) as he took home a convincing unanimous decision.
After a pair of back-and-forth rounds, middleweight Yoel Romero (7-1) turned it on in the third frame when dropped Derek Brunson (11-3) with a pair of powerful lefts and finished him off with a barrage of elbows to the body. John Moraga (14-2) eked out a close split decision over Dustin Ortiz (12-3), and Cole Miller (21-8) earned his fifteenth career submission victory when he elicited a tap from Sam Sicilia (12-4) in the round with a rear-naked choke.
The preliminary portion of the card was headlined by a competitive lightweight bout that saw Ramsey Nijem (8-4) win a unanimous decision over Justin Edwards (8-4). Brazilian lightweight Elias Silverio (10-0) exhibited a well-rounded game in his dominant, unanimous decision victory over Isaac Vallie-Flagg (14-4-1).
Decisions appeared to the be theme of the undercard as there was also another trio of decisions that took place earlier. In those three decisions, Trevor Smith (11-4) got the nod over Brian Houston (4-2), Louis Smolka (7-0) outpointed Alptekin Ozkilic (9-2), and Vinc Pichel (8-1) defeated Garett Whiteley (7-2). UFC newcomer Beneil Darisuh (7-0) started the event off by dropping Charlie Brenneman (19-6) with a left and securing a rear-naked choke in the first round.
2. The first episode TUF: Nations took place on Wednesday, and in the first fight of the season, Team Canada's Kajan Johnson (19-10-1) submitted Australia's Brendan O'Reilly (5-0, 1 NC) with a rear-naked choke in the first round. Johnson advances to the next round of the welterweight bracket, and the first fight in the middleweight tournament was announced for next week as Canada's Elias Theodorou (8-0) takes on Australia's Zein Saliba (4-0).
3. World Series of Fighting returned with it's eighth event as Justin Gaethje (11-0) claimed the inaugural WSOF Lightweight Championship by finishing Richard Patishnock (6-2) on the feet in a little over a minute. In the night's co-main event, Anthony Johnson (16-4) punctuated his case for a UFC return by brutally knocking out Mike Kyle (20-11-1, 2 NC) in the first round of their Light Heavyweight bout.
The remainder of the main card saw Jessica Aguilar (17-4) make short work of Alida Gray (4-1) and claim the inaugural WSOF women's strawweight championship with a first round, arm-triangle submission victory. Cody Bollinger (15-2, 1 NC) slightly rose up the bantamweight ranks with a decision win over Tyson Nam (12-6), and Luis Palomino (22-9) opened the televised portion of the event with an explosive knockout of Jorge Patino (35-15-2, 1 NC).
The preliminary card ended with a finish as Tyler Stinson (27-9) found a second win and put away Valdir Araujo (14-5) with strikes in the third period. Derrick Mehmen (17-5) out-struck Scott Barrett (14-4) to earn a unanimous decision victory, Alexis Vila (14-4) mixed in a few takedowns with his striking to win a close decision over Sidemar Honorio (8-5), and Brenson Hansen (5-2) had a tough break, losing a controversial decision to Freddy Assuncao (8-1). Anderson Melo (10-7) opened the card off with a quick, heel hook submission of Jose Caceres (5-5).
4. Maximum Fighting Championships 39 took place Friday, and in the night's featured bout, MFC Heavyweight Champion Anthony Hamilton (12-2) used his wrestling to win a one-sided unanimous decision over Darrill Schoonover (13-6).
Tom Gallicchio (18-8) was supposed to have an opportunity to fight for the promotion's vacant lightweight championship against Kurt Southern (13-5), but Gallicchio missed weight for the bout. In a non-title bout for Gallicchio (Southern, who made weight, would have been awarded the title had he won), he was able to secure a second round submission win with a rear-naked choke.
Rear-naked choke victories appeared to be the theme for MFC 39 as Marcus Edwards (6-2), Sean O'Connell (15-4), and Andrew McInnes (4-1) each beat Sean Powers (8-4), Markhaile Wedderburn (11-11), and Dan Ring (5-3-1) respectively with rear-naked chokes. The other main card fight saw TUF 17 contestant Gilbert Smith (8-2) beat Jason South (10-2) with a unanimous decision.
5. Fresh off being released from UFC after a five fight stint, Riki Fukuda (20-7) finished Hee Seung Kim (6-2) at Road FC Korea 1 with a TKO in the second round.
The News
1. At UFC Fight Night 35, Brunson and Romero each took home an extra fifty grand as they won fight of the night honors. Rockhold's body kick finish of Philippou earned him knockout of the night, and Miller was awarded submission of the night thanks to his rear-naked choke of Sicilia.
2. Brunson was the only fighter on the Fight Night 35 card to have been suspended for more than 45 days. Brunson is currently suspended indefinitely as he was diagnosed with a broken jaw as a result of his TKO loss to Yoel Romero.
3. With the news of Keith Kizer stepping down as NSAC Executive Director in the rearview mirror, the Nevada Athletic Commission has established the outline for the hiring process of Kizer's successor. Those wanting the job will have until February 7th to apply. The applicants will eventually be narrowed down and interviewed. At this point, the goal for the NSAC is to have hired a new executive director by mid-April.
4. The flyweight fight between Chris Cariaso and Kyoji Horiguchi at UFC 169 is now off as Horiguchi was forced to withdraw due to an eye injury. Currrently, Cariaso does not have an opponent for the February 1st card.
Fights Made
UFC on FOX 10 – January 25th
WW Bout – Mike Rhodes (6-1) vs George Sullivan (14-3, 1 NC)
Bellator 111 – March 7th
LW Bout – Brent Primus (4-0) vs Kyle Sjafiroeddin (4-4)
Bellator 113 – March 21st
LHW Title – Attila Vegh (c) (29-4-2) vs Emanuel Newton (22-7-1)
LW Tourney – David Rickels (15-2) vs Patricky Pitbull (11-5)
LW Tourney – Marcin Held (16-3) vs Rodrigo Cavalheiro (14-2)
LW Tourney – Terry Etim (16-5) vs Derek Anderson (10-0)
LW Tourney – Derek Campos (13-3) vs Brandon Girtz (10-3)
Bellator 114 – March 28th
MW Title – Alexander Shlemenko (c) (49-7) vs Brennan Ward (9-1)
Bellator 115 – April 4th
HW Title – Vitaly Minakov (c) (13-0) vs Cheick Kongo (19-9-2)
Ratings Report
UFC Fight Night 35 Main Card – 629,000 viewers
TUF Nations: Episode 1 – 371,000 viewers
UFC Fight Night 35 Preliminary Card – 220,000 viewers
Note: The ratings used in this section are the preliminary overnight Nielsen ratings.
Quick Results
UFC Fight Night 35
Main Card
MW Bout: Luke Rockhold def. Costas Philippou via KO – Round 1, 2:31
MW Bout: Brad Tavares Lorenz Larkin via unanimous decision (29-28, 29-28, 29-28)
BW Bout: T.J. Dillashaw def. Mike Easton via unanimous decision (30-27, 30-27, 30-27)
MW Bout: Yoel Romero def. Derek Brunson via TKO – Round 3, 3:23
FLW Bout: John Moraga def. Dustin Ortiz via split decision (29-28, 28-29, 29-28)
FW Bout: Cole Miller def. Sam Sicilia via submission – Round 2, 1:54
Preliminary Card
LW Bout: Ramsey Nijem def. Justin Edwards via unanimous decision (30-27, 29-28, 29-28)
LW Bout: Elias Silverio def. Isaac Vallie-Flagg via unanimous decision (29-27, 29-27, 29-27)
MW Bout: Trevor Smith def. Brian Houston via split decision (29-28, 28-29, 29-28)
FLW Bout: Louis Smolka def. Alptekin Ozkilic via unanimous decision (29-28, 29-28, 29-28)
LW Bout: Vinc Pichel def. Garett Whiteley via unanimous decision (30-27, 30-27, 30-27)
LW Bout: Beneil Dariush def. Charlie Brenneman via submission (rear-naked choke) – Round 1, 1:45
WSOF 8
Main Card
WSOF LW Title – Justin Gaethje def. Richard Patishnock via TKO – Round 1, 1:09
LHW Bout – Anthony Johnson def. Mike Kyle via KO – Round 1, 2:03
WSOF STR Title – Jessica Aguilar def. Alida Gray via submission (arm-triangle) – Round 1, 2:45
BW Bout – Cody Bollinger def. Tyson Nam via unanimous decision (29-28, 29-28, 29-28)
LW Bout – Luis Palomino def. Jorge Patino via KO – Round 2, 4:20
Preliminary Card
WW Bout – Tyler Stinson def. Valdir Araujo via TKO – Round 3, 2:23
HW Bout – Derrick Mehmen def. Scott Barrett via unanimous decision (29-28, 29-28, 30-27)
FLW Bout – Alexis Vila def. Sidemar Honorio via unanimous decision (29-29, 29-28, 29-28)
FW Bout – Freddy Assuncao def. Brenson Hansen via split decision (29-28, 28-29, 29-28)
WW Bout – Anderson Melo def. Jose Caceres via submission (heel hook) – Round 1, 1:10
MFC 39
HW Title – Anthony Hamilton def. Darrill Schoonover via unanimous decision (49-46, 49-46, 50-45)
CW Bout – Tom Gallicchio def. Kurt Southern via submission (rear-naked choke) – Round 2, 4:31
WW Bout – Gilbert Smith def. Jason South via unanimous decision (30-27, 30-27, 29-28)
CW Bout – Marcus Edwards def. Sean Powers via submission (rear-naked choke) – Round 1, 4:50
LHW Bout – Sean O'Connell def. Markhaile Wedderburn via submission (rear-naked choke) – Round 1, 1:48
LW Bout – Andrew McInnes def. Dan Ring via submission (rear-naked choke) – Round 2, 2:01