The third episode of The Ultimate Fighter Nations premiered last night on Fox Sports 2 and featured Team Canada's Chad Laprise defeating Chris Indich of Team Australia.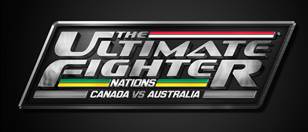 According to Nielsen sources, Wednesday night's third episode landed at 107,000 and this is down 57% compared to last weeks episode (253,000).
Last nights episode was shown on Fox Sports 2, due to Fox Sports 1 having a live college basketball game. Fox Sports 2 is only available in near 40 million homes, while Fox Sports 1 is in over 90 million homes, so it's not surprise that the numbers were down as much as they were.
It's likely that last night's episode of the reality show will end up being the top show on Fox Sports 2 for the week as there was only one show on Fox Sports 2 last week that had more than 100,000 total viewers.
When it came to the competition on cable last night, the evening was won by a new episode of Duck Dynasty on A&E. The hit reality show had over seven million viewers and other top programs on cable were The Big Bang Theory on TBS, Wahlburgers on A&E, and Family Guy on Adult Swim.
The only sports programming to be in the top 100 shows last night were the two NBA basketball games on ESPN. The first game was a rematch of last years NBA Finals as the Oklahoma City Thunder defeated the Miami Heat. The game ad 3.8 million viewers and was the biggest game for ESPN this season. The second game on ESPN went up against TUF Nations and had just over two million viewers with the Chicago Bulls defeating the San Antonio Spurs.
As always stay tuned for all the updated UFC and Bellator television ratings right here on TheMMAReport.com