The World Series of Fighting returns on tonight with it's eight event and it will come from Hard Rock Live inside the Seminole Hard Rock Hotel and Casino in Hollywood, Florida.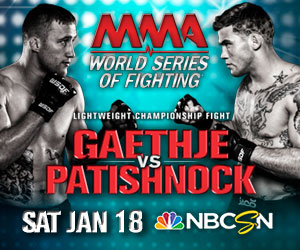 The main card will be shown live in the United States on NBCSN and is highlighted by two championship matches and a light heavyweight encounter between Anthony Johnson and Mike Kyle.
To get you ready for the event, I'll break down every fight on the WSOF 8 card and give you my picks for each bout.
Justin Gaethje (10-0) vs Richard Patishnock (6-1)
A Look At Gaethje
Since making his debut in the World Series of Fighting last year, Gaethje has become one of the premier fighters within the organization as well as one of the best non-UFC lightweights on the planet. His three WSOF wins (all finishes) over Dan Lauzon, Brian Cobb, and Gesias Cavalcante have done a fine job of exemplifying where Gaethje excels. He's a lethal offensive striker with brutal leg kicks and an unorthodox right hand that can come in from any angle at his disposal. Gaethje's striking fundamentals and defense leave more to be desired, but he makes up for it with his constant pressure, unpredictable movement, and angling.
Something that tends to be forgotten about Gaethje is that he has a wrestling base that he can fall back on. Since the school returned to the division one level, Northern Colorado's first All-American wrestler was in fact, Gaethje. His wrestling is certainly solid, although it was exposed a bit in his fight against Cobb. Cobb just outwrestled Gaethje in the first round of their fight.
A Look At Patishnock
Patishnock started off his mixed martial arts career by using his wrestling to secure victories, but as the quality of his opponents increased, his success in the wrestling department decreased. His wrestling woes have become evident in his last three fights. Both Gregor and Igor Gracie were able to take Patishnock down at will in their contests (with the exception to that being in the third round of the Gregor fight), and Tenyeh Dixon knocked Patishnock out with ground and pound after taking him down at XCC – Relentless.
Patishnock makes up for his wrestling deficiencies with his above-average ability to scramble back up to the feet by using the cage or creating space. On the feet, Patishnock's real strength is his leg kicks that have allowed him to control the range in his fights. Even though he is dropping down to lightweight, he will be at a disadvantage from a height standpoint.
My Pick: Gaethje is a heavy favorite in this fight for a reason. At this point in time, he is just the more advanced fighter in every area of the game. Even though he could ride a safer route to victory by using his wrestling, I expect him to be aggressive early on with his striking and look to end Patishnock's night early. Gaethje via 1st KO/TKO
Anthony Johnson (15-4) vs Mike Kyle (20-10-1, 2 NC)
A Look At Johnson
Since being released by the UFC in 2012, Johnson has won five straight thanks to his heavy hands and wrestling. Johnson, who has fought at five different weight classes (yes, I'm including rumbleweight), has not lost much of his hand-speed in his move up to the light heavyweight division. I would say his footwork has slowed down a tad, but the power he has maintained in his overhand right overshadows that loss.
If things don't work out on the feet, Johnson also has a wrestling game that is more predicated on wearing down the opponent against the cage than it is on explosive takedowns. If Johnson does get an opportunity to return to the UFC, it'll start tonight with an impressive victory over Kyle. He's on the last fight of his WSOF deal, and I would be shocked if the UFC didn't offer him a contract if he wins impressively.
A Look At Kyle
2013 was a rough year for Kyle. He went 1-2 in the year, which included a loss to Andrei Arlovski (a fighter that Johnson beat in 2013). Kyle did have his fair share of bright moments in the Arlovski fight as he rocked him a pair of times on the feet, but he did end up dropping the fight on the judges' scorecards.
Mike Kyle is an aggressive striker with enough power to rock Antonio Silva and enough speed to catch up with Marcos Rogerio de Lima. He thrives in scenarios where he turns fights into brawls, although he does tend to fade as the fight goes on.
My Pick: In a hypothetical world where I was a betting man, I would stay away from this fight. Kyle has enough power and speed to pull off an upset against Johnson. I don't foresee that happening, but it's a possibility. What I do see happening is Johnson weathering the early storm from Kyle by pressuring him against the cage, and then eventually turning it on in the second round with a powerful combination that puts Kyle away. Johnson via 2nd KO/TKO
Jessica Aguilar (16-4) vs Alida Gray (4-0)
A Look At Aguilar
Aguilar established herself as one of, if not the best female strawweight fighters on the planet due to a 5-1 tenure in Bellator that saw her pick up wins over Carla Esparza, Megumi Fujii, and Patricia Vidonic. Aguilar has won her last seven fights, with her six of those coming by way of decision.
Like most premier fighters, Aguilar is well-rounded. She has an economical, counter-striking game on the feet, and her strong suit is in her wrestling and clinch game where she is able to steal rounds if the fight isn't going her way.
A Look At Gray
7 months ago, Gray was an amateur fighter. Now she's taking on Jessica Aguilar for a championship. For a fighter with only four victories on her resume, Gray has made quite a name for herself. She started her career off with a nice submission victory against a Women's MMA veteran in Patricia Vidonic, and her brutal knockout of Soannia Tiem five seconds into the third round became a viral sensation.
At 36, Gray may not have time on her side, but she does have martial arts experience on it. She was an alternate on the 1996 US Olympic Judo team, and she spent a lot of time competing internationally. From a pure MMA standpoint, Gray is a green fighter. Nevertheless, her aggressive fighting style and raw potential make her fun to watch. Her striking is powerful, and her judo base is a nice security blanket.
My Pick: Picking Aguilar seems like the logical choice. She's considered by many to be the number one strawweight in the world, and Alida Gray hasn't even completed her first year as a professional mixed martial artist. Well, I think Gray is going to defy logic. Aguilar has not impressed me in her last three fights. I actually had her losing two of her last three fights on my scorecards, and I think Gray will come in with solid conditioning that will aid her in overwhelming Aguilar with strikes at some point in the third round. Gray via 3rd KO/TKO
Tyson Nam (12-5) vs Cody Bollinger (14-2, 1 NC)
This is the fight that will either validate Nam's win over Eduardo Dantas or strengthen the case of it being merely a fluke. Despite having an embarrassing showing on the latest American season of The Ultimate Fighter, 22 year-old Bollinger has long been one of the more promising featherweight prospects in the sport.
Nam should have the striking edge in this one. He's a mature and patient counter striker. Bollinger is no slouch on the feet, but he still has a lot of room to improve. Where he should find much success against Nam is with his wrestling. Bollinger has superb wrestling, and he should be able to use to outpoint Nam in their contest. As long as Bollinger's mental issues don't rear it's ugly head once again, I feel confident in picking Bollinger to take the fight on the judge's scorecards. Bollinger via decision.
Jorge Patino (35-14-2, 1 NC) VS Luis Palomino (21-9)
The word veteran tends to be overused in the MMA hemisphere. Essentially, any fighter with at least a second time spent in the octagon is a "UFC veteran". Still, Patino is a veteran in every sense of the word. Patino has competed in the UFC when the promotion was in it's infancy, and he's been a pro fighter since 1995.
Speaking of competing in the early stages of a promotion, Palomino was part of the first season of Bellator. Recently, Palomino has had an up-and-down run in the CFA organization. He's picked up wins over Gesias Cavalcante and Charles Bennett, but dropped losses to Efrain Escudero (note: this was a controversial decision that should've gone to Palomino) and Luiz Firmino.
Even though Patino's striking has looked as good as it ever has in recent fights, Palomino's powerful bursts of flurries will be hard for Patino to overcome. Patino's best chance at victory would be on the ground where he can use his jiu-jitsu acumen. In his last loss to Carlos Ferreira, Patino was able to survive after being rocked a few times, but I don't believe that he will be able to do the same against the leather thrown by Palomino. Palomino via 1st KO/TKO.
Valdir Araujo (14-4) vs Tyler Stinson (26-9)
Having won six of his last seven, Araujo has done an fine job of flexing his takedown game by outwrestling his opponents. Stinson, on the other-hand, has found much success with his strikes. He's finished 92% of his victories.
Stinson will enjoy a 5.5 inch reach advantage against Araujo, and his southpaw style should aid him to beating Araujo on the feet. If Araujo decides to wrestle early on, he could beat Stinson, but he tends to get his feet wet standing early on. That hesitancy to wrestle from the start of the fight may end up costing Araujo the fight. Stinson via 1st KO/TKO.
Derrick Mehmen (16-5) vs Scott Barrett (14-3)
Both Mehmen and Barrett use their wrestling to beat their opponents up with strikes. Mehmen usually keeps the fight on the feet where he can use his wild, speedy stand-up to put away opponents on the feet, while Barrett has made a living out of taking opponents down and raining down a heavy diet of ground and pound.
In this one, I would give the wrestling advantage to American Top Team's Mehmen. He should be able to keep the fight on the feet, use his reach to pick his shots, and eventually catch Barrett with a destructive combination. Mehmen via 2nd KO/TKO.
Alexis Vila (13-4) vs Sidemar Honorio (8-4)
After a hot start to his Bellator career with a knockout win over Joe Warren and (controversial) decision victory of Marcos Galvao, Vila has cooled off as he lost next three fights after the Galvao bout. Vila got back on the winning track with two wins in CFA, but he lost in his WSOF debut against Josh Rettinghouse.
Honorio has lost three of his last four, although the quality of opponent in his losses has been high. His losses have came against Jimmie Rivera, Aljamain Sterling, and Sean Santella.
Vila and Honorio are both similar strikers in that they have an absurd amount of power in their punches, but they suffer defensively. If Vila doesn't get sucked into a brawl, he should take this fight comfortably. His wrestling is at a completely different level than Honorio. Vila should fight a smart fight by putting Honorio on his back and making an impact with his ground and pound. Vila via 2nd KO/TKO.
Freddy Assuncao (7-1) vs Brenson Hansen (5-1)
If Assuncao's name sounds familiar that's because his older brothers are Raphael and Junior Assuncao. Like his brothers, Assuncao has a top flight ground game. His grappling isn't as overwhelming as Raphael, but Freddy is a scrappy grappler that is more than capable from both top and bottom positions.
Hansen is a featherweight that has received praise from WSOF President Ray Sefo. Sefo actually trained Hansen prior to the creation of the World Series of Fighting, and that becomes quite evident when you watch Hansen strike. He's a talented striker. The highlight of his career thus far would have to be his flying knee knockout of Tom Marcellino.
Out of all the fights on this card, this is the one I have gone back and forth on the most. Assuncao has been inactive since 2012 due to an ACL tear. Hansen is the better striker of the two, but he just hasn't faced the same level of competition as Assuncao. Assuncao via 2nd submission.
Jose Caceres (5-4) vs Anderson Melo (10-7)
In spite of his recently unimpressive 2-4 record in the CFA organization, Caceres got the call from World Series of Fighting event to open up the WSOF 8 event.
Caceres has won all five of his fights with a submission, but against Melo, he could find an advantage on the feet with his vastly superior reach. That being said, it's likely that the majority of the fight plays out on the ground, and if that's the case, I would anticipate that Melo's experience and skills in that department will help him pull off a submission victory to start the night. Melo via 2nd Submission.