An undisclosed injury has forced Thiago Tavares to pull out of his UFC Fight Night 36 bout against Zubaira Tukhugov next week and stepping in on short notice is Douglas Silva de Andrade.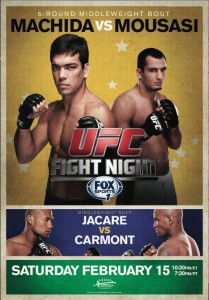 UFC officials announced the change on Thursday and the new fight will be placed on the preliminary card, which will be streamed on Fight Pass.
UFC Fight Night 36 will come from Jaragua do Sol, Brazil on February 15th and will be headlined by a middleweight bout as former UFC light heavyweight champion Lyoto Machida meets Gegard Mousasi.
Silva de Andrade (22-0, 1NC) has won twenty-one fights in a row after his second professional fight was declared a no contest due to an illegal strike. Eighteen of his twenty-two victories have come by TKO/KO and four of his last six wins have been in the first round.
Tukhugov (15-3) has won his last six fights and is coming off a first round knockout victory against Vaso Bakocevic in October. It was his fifth win coming by TKO/KO and three of his last six wins have come by TKO/KO.
The current UFC Fight Night 36: Machida vs. Mousasi fight card lineup is below.
Main Card: (Fox Sports 1 – 10:30 p.m. ET/7:30 p.m. PT)
Lyoto Machida (20-4) vs. Gegard Mousasi (34-3-2)
Ronaldo Souza (19-3, 1NC) vs. Francis Carmont (22-7)
Erick Silva (15-4, 1NC) vs. Takenori Sato (17-8-7)
Viscardi Andrade (17-5) vs. Nico Musoke (11-2, 1NC)
Charles Oliveira (16-4, 1NC) vs. Andy Ogle (9-3)
Preliminary Card: (UFC Fight Pass – 7 p.m. ET/4 p.m. PT)
Cristiano Marcello (13-5) vs. Joe Proctor (8-2)
Rodrigo Damm (11-6) vs. Ivan Jorge (25-3)
Francisco Trinaldo (13-3) vs. Jesse Ronson (13-3)
Iuri Alcantara (28-5, 1NC) vs. Wilson Reis (17-4)
Maximo Blanco (9-5-1, 1NC) vs. Felipe Arantes (15-6-1, 2NC)
Ildemar Alcantara (19-6) vs. Albert Tumenov (12-1)
Zubaira Tukhugov (15-3) vs. Douglas Silva de Andrade (22-0, 1NC)