The Broward County Sheriff's office arrested Thiago Silva on Thursday evening at his home in Oakland Park after an altercation at a local jiu-jitsu school.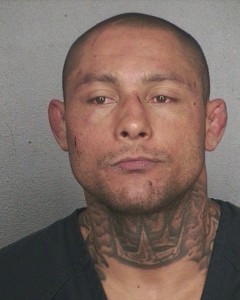 According to the police report obtained by TheMMAReport.com on Friday morning, Thiago Silva and the victim Thaysa Silva have been married for thirteen years.
The couple separated in December due to martial problems and Silva has still be living in their residence in Oakland Park.
On January 30, 2014, Thaysa called 911 after there was a domestic altercation at their home. Thaysa told the police officer that showed up to the home that they were arguing over accusations of an extramarital affair. During the argument, Thiago picked up a revolver, pushed Thaysa to the sofa and pointed the firearm at her.
He told her that he was going to kill her and Thaysa began to scream. Thiago covered her mouth and placed the firearm in her mouth while holding her down. She continued to attempt to scream and Thiago left the home. Thaysa told the officer that she feared for her life and she obtained a temporary injunction for protection – domestic violence.
Thaysa called 911 on Wednesday to report another incident with Thiago. Thaysa told the police officer that showed up to the home that she came home and Thiago was at the residence. Thiago would end up leaving the residence after Thaysa mentions the injunction for protection that she had against him.
After leaving the residence, Thiago sent a text to Thaysa in Portugese stating "I am gonna f**k you up and you are going to die. I am going to hire someone to kill you and I am gonna move my girlfriend in."
Yesterday, Thaysa was training at the Popovitch Brazilian Jiu-Jitsu school in Oakland Park and she noticed that Thiago was in the parking lot. Along with her noticing that Thiago was in the parking lot, Pablo Popovitch notice this as well, and Thaysa and Popvitch are in a romantic relationship.
Thiago began honking his horn in the parking lot and Thaysa went outside to talk to him. When she approached the vehicle, she noticed that Thiago had been drinking and was "extremely intoxicated."
At this point, Thiago pointed a glock firearm and pointed it at Thaysa. He stated "you have ten seconds to bring Pablo outside and if he does not come out, I will go in the gym and start shooting everyone." Popovitch exited the school and came outside to protect Thaysa. He noticed that Thiago was pointing a firearm at her and Thiago threatened to kill them both. Popovitch ran back into the gym, locked the door and called 911. Thiago drove away from the scene at that time.
Authorities were dispatched to the home of Thiago to see if he would show up, which he did. The first officer on the scene waited for backup before attempting to approach him. Law enforcement gave verbal demands via a public address system and Thaigo did not apply. He faced the officers and gave them the middle finger hand gesture and went into the home.
The SWAT Team was called to the residence and as they approached the home, Thiago came outside. He did not comply with the officers commands so a taser was deployed for officer safety reasons. He was approximately taken into custody at 11:12 p.m., which was three hours after the incident at the jiu-jitsu school.
Thiago has been charge with two counts of attempted felony murder and obstruction of justice for last night's incident. In addition, he is facing a charge of aggravated battery with a deadly weapon for the incident on January 30th.
Following the police report being released, UFC President Dana White told TMZ Sports that "this guy will never fight in the UFC again." TheMMAReport.com reached out to the UFC for a comment on the charges that Thiago is facing, and the UFC has not responded at this time.