The UFC 170 Pre-Fight Press Conference took place today in Las Vegas and the replay video is now available.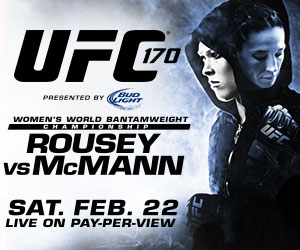 Today's press conference came from Mizuya at Mandalay Bay and was attended by UFC President Dana White, Ronda Rousey, Sara McMann, Daniel Cormier, Patrick Cummins, Rory MacDonald and Demian Maia.
White and the fighters took questions from the media in attendance in Las Vegas, including White giving his thoughts on Cummins willing to step up on ten days notice to face Cormier.
The complete UFC 170 Pre-Fight Press Conference is below.