Bellator welterweight Herman Terrado was in the co-main event of Bellator 115 earlier this month in Nevada and he tested positive for a banned substance following the event.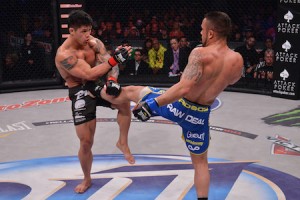 The news of the positive drug test was announced during today's Nevada State Athletic Commission hearing in Las Vegas.
Terrado post fight drug test for reflected the presence of Drostanolone, and/or Drostanolone Metabolites, which is a prohibited anabolic agent. Terrado was not on the phone to address his positive drug test following Bellator 115 and the commission voted unanimously to give the fighter a temporary suspension.
He will be able to present his side on the positive drug test at a commission meeting next month and at that time, the commission will decided a suspension for him. Following the temporary suspension being announced by the commission, TheMMAReport.com reached out to Bellator for a comment and they support the decision by the NSAC.
"We were informed that Herman Terrado tested positive for a banned substance via the Nevada State Athletic Commission," said Anthony Mazzuca, Director of Communications for Bellator. "All fighters on our April 4th card were tested by the Commission, and Terrado was the only fighter to register a positive test result. We support the Nevada State Athletic Commission's ruling."
Terrado is the third known positive drug test in Bellator's five year history. The two other positive drug test in Bellator's history took place last year as a preliminary card fighter tested positive for marijuana at Bellator 96 and Doug Marshall tested positive for elevated levels of testosterone at Bellator 109. Marshall is still currently under suspension and can come off suspension in August.