Guillaume DeLorenzi has pulled out of his Bellator 119 bout against John Alessio for unknown reasons and replacing him in the bout will be Eric Wisely.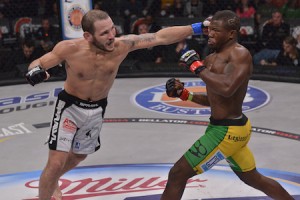 The new fight booking was announced by Bellator officials on Tuesday.
Bellator 119 will take place on May 9th from Casino Rama in Rama, Ontario, Canada and will be headlined by Brett Cooper meeting Brandon Halsey in the middleweight tournament final.
Wisely (22-8) has won three fights in a row since being released by the UFC and won his Bellator debut last month when he defeated Donnie Bell by split decision at Bellator 113. In his last eleven fights, he has eight wins and one of those wins came against season ten lightweight tournament participant Brandon Girtz.
Alessio (34-17, 1NC) signed with Bellator last year and was immediately placed into the season nine lightweight tournament. He would be eliminated in the opening round by Will Brooks and he has gone 3-3, 1NC in his last seven fights.
The current Bellator 119: Cooper vs. Halsey fight card is below.
Main Card: (Spike TV – 9 p.m. ET/6 p.m. PT)
Brett Cooper (20-9) vs. Brandon Halsey (6-0) *
Daniel Weichel (33-8) vs. Desmond Green (11-2) **
Chris Horodecki (20-4-1) vs. Marlon Sandro (24-5-1)
Raphael Butler (8-0) vs. Nick Rosbroough (23-18)
Preliminary Card: (Spike.com – 7 p.m. ET/4 p.m. PT)
Fabricio Guerreiro (19-3) vs. Shahbulat Shamhalaev (12-2-1)
Marius Zaromskis (19-8) vs. Vaughn Anderson (16-2-1)
John Alessio (34-17) vs. Eric Wisely (21-8)
Brian Rogers (10-6) vs. Adrian Miles (14-5)
Stuart Austin (7-0) vs. Craig Hudson (4-3)
Jason Meisel (4-3) vs. Remy Bussieres (3-0)
* – Middleweight Tournament Final
** – Featherweight Tournament Final