Sam Oropeza was pulled from the Bellator 118 fight card on Thursday after he was unable to make weight for his re-scheduled welterweight tournament semifinal fight against Andrey Koreshkov.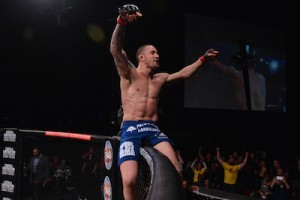 The fight was initially scheduled to take place at Bellator 115 one month ago in Nevada, but the fight was pulled on the day of the weigh-in due to Koreshkov becoming ill.
Along with Koreshkov being ill, Bellator MMA Chairman and CEO Bjorn Rebney told TheMMAReport.com that Oropoeza was not on weight for their first scheduled meeting.
"Sammy was no where near making weigh in his last fight," Rebney said. "He got within 1.7 pound this time but then he just said I'm done. I am going to end up going to the hospital. I am finished but last time he was seven or eight over. Last time he was clearly missing and this time he could have conceptually made it, but you get to that point where you say stop because you are going to end up in the hospital and he did. Seventy is just to small for him."
This was going to be the fourth Bellator fight for Oropeza and he only made weight once, which was in the opening round of this tournament. If he is going to remain in Bellator, he will likely need to move up to the middleweight division since he has not shown the ability to make the welterweight limit of 171 pounds.