Jim Alers has pulled out of his UFC Fight Night 45 bout against Lucas Martins for unknown reasons and replacing him in the bout will be Alex White.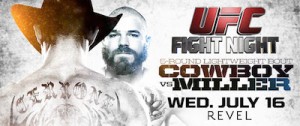 The fight change was announced by White's management team and the UFC has not made the change official at this time.
UFC Fight Night 45 will come from the Ovation Hall inside the Revel Casino on July 16th and will be headlined by Donald Cerrone meeting Jim Miller in a five round lightweight bout.
White (10-0) made his UFC debut in April and defeated Estevan Payan by knockout in the first round. He won one of the performance of the night bonuses on the card and it was his third straight victory to happen in the first round.
Martins (14-1) entered the UFC as a lightweight and his most recent fight took place at bantamweight. He won his bantamweight debut at UFC Fight Night 29 against Junior Hernandez by technical submission in the first round.
The current UFC Fight Night 45: Cerrone vs. Miller fight card is below.
Donald Cerrone (23-6, 1NC) vs. Jim Miller (24-4, 1NC)
John Lineker (19-6) vs. Alptekin Ozkilic (9-2)
Rick Story (16-8) vs. Leonardo Mafra Teixeira (11-1)
Pat Healy (29-19, 1NC) vs. Gleison Tibau (28-10)
Edson Barboza (13-2) vs. Evan Dunham (14-5)
Aljamain Sterling (9-0) vs. Hugo Viana (8-2)
Lucas Martins (14-1) vs. Alex White (10-0)
Joe Proctor (9-2) vs. Justin Salas (12-5)
Jessamyn Duke (3-1, 1NC) vs. Leslie Smith (6-5-1)
Claudia Gadelha (11-0) vs. Tina Lahdemaki (5-0)
Leo Kuntz (17-1-1) vs. Yosdeis Cedeno (9-3)