Back in Decemeber, Egidijus Valavicius got in his car and hoped that he would be able to earn a Bellator contract as he went to the open tryouts in Philadelphia.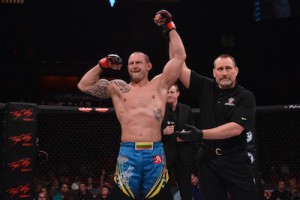 Following the tryout, Bellator Vice President of Talent Relations Sam Caplan offered him a contract and he made an immediate impact in the organization in February.
In his Bellator debut, he scored the ninth fastest victory in Bellator light heavyweight division history as he defeated Atanas Djambazov by TKO at Bellator 110.
The victory over Djambazov was his 15th career victory by TKO/KO and 14 of those wins have come in the first round. He was invited to take place in the Summer Series Light Heavyweight Tournament, which he accepted and he will meet Carlos Eduardo tonight in the opening bout of the Bellator 121 main card on Spike TV.
Valavicius (26-10) is from Lithuania and now resides in Willowbrook, Illinois. With the training that is required for this tournament, he had to make the biggest sacrifice of his life, which was to be away from his 8-year-old daughter Enrika.
"Training for this tournament away from my daughter is the biggest sacrifice I had to make," Valavicius said. "Not seeing her to grow, going to school, not being able to help her with her homework is very very tough emotionally. But in order for her to have a better life, I need to make sacrifices. I can't wait to see her again right after the fight."
Fighting in this tournament is a dream come true for Valavicius as he is three fights away from a title shot and making a better life for his family. If he is able to win his next three fights, he will win $100,000 and put himself in a place here he can make his goal of becoming Bellator champion a reality.
"This is dream come true for me," stated Valavicius. "I was so happy to join Bellator family. And in my debut fight I wanted to show, that I belong here. I think my 48 secs KO victory proved just that and I was invited to join the tournament. Now I want to prove again, that I am worth the shot at the belt. Goals get bigger and bigger with each fight. But I always concentrate on my next fight first. Then keep going forward towards my eventual goal."
His first step in earning that title shot will be against Eduardo tonight, who is known for his submissions and has gone on record that he wants to win this fight by submission. Valavicius is firmly away that Eduardo is dangerous on the ground, but knows he can not sleep on his standup game.
"Carlos Eduardo is well rounded fighter," Valavicius explained. "He has very good ground game and on the feet he is very dangerous as well. I know this will be very exciting fight, just wait and see. We both like stand and bang. And that's what fans want to see most. I think I am faster than him and my stand up is better than my opponents. I'm pretty sure he doesn't have any edge over me."
While mixed martial arts fans in the United States may not be aware of who Valavicius is currently, he plans on changing that with his performance in this Bellator Light Heavyweight Tournament.
"I came here to win. And I will. I'm not very well known name here in the USA, but I will change that very soon."