World Series of Fighting 11 will take place on July 5th from the Ocean Center in Daytona Beach, Florida and tickets for the event will go on sale tomorrow.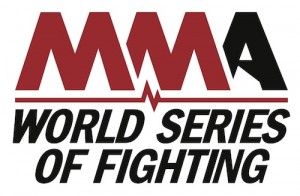 The fight card will be headlined by a title fight as Justin Gaethje makes his first lightweight title defense as he meets fellow undefeated fighter Nick Newell.
Tickets for the event start at $39 and go on sale tomorrow, Saturday, June 7 at Ticketmaster.com or WSOF.com. Just like previous World Series of Fighting events, all military members with a valid military I.D. receive two free tickets at the box office the morning of the event, while tickets last.
Doors at the Ocean Center will open to fans at 1 p.m. ET, with an NBCSports.com streamed preliminary card beginning at 2 p.m. ET/11 a.m. PT and the main card on NBC will begin at 4 p.m. ET/1 p.m. PT.
"We've been talking about it for some time now, and we're thrilled to see all of the pieces falling perfectly into place for our first show on NBC," said World Series of Fighting President Ray Sefo. "With World Series of Fighting 11 taking place over the holiday weekend in Daytona, the world's most famous beach, we are anticipating fireworks from the Fourth to continue in the cage. I know that it will be another great night of fights for all of our fans."
The current World Series of Fighting 11: Gaethje vs. Newell fight card is below.
Main Card: (NBC – 4 p.m. ET/1 p.m. PT)
Justin Gaethje (11-0) vs. Nick Newell (11-0)
Jon Fitch (25-6-1, 1 NC) vs. Josh Burkman (27-10)
Melvin Guillard (31-13-2) vs. Gesias Cavalcante (18-7-1)
Cody Bollinger (15-2, 1 NC) vs. Pablo Alfonso (9-5)
Preliminary Card: (NBCSports.com – 2 p.m. ET/11 a.m. PT)
Brian Cobb (20-8) vs. Luis Palomino (22-9)
Alexandre Pimental (13-1) vs. Jerrod Sanders (14-1)
Neiman Gracie (1-0) vs. David Mundell (1-0)
Jake Heun (5-3) vs. Kendrick Miree (5-1)