Muhammed "King Mo" Lawal is now on his third opponent for next week's Bellator 123 as Marcus Sursa has pulled out of the fight and replacing him will be Dustin Jacoby.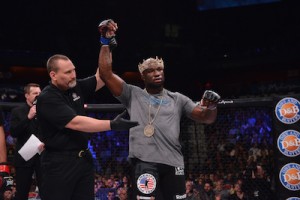 Jacoby posted a picture on Instagram on Monday evening of him signing the bout agreement and Bellator is expected to make the fight official once both bout agreements have been received by the promotion.
Bellator 123 will come from the Mohegan Sun Arena in Uncasville, Connecticut next Friday night and will be headlined by Pat Curran defending the Bellator featherweight title against Patricio Pitbull in a rematch of their controversial split decision last year.
Jacoby (10-3) is coming off a TKO win at last weekend's Titan FC 29 against Lucas Lopes anf it was his second straight win. He has won four of five since exiting the UFC in early 2012 and three of those wins have come by TKO/KO.
Lawal (12-4, 1NC) was initially scheduled to meet Tom DeBlass on this card, but he had to pull out of the fight with a knee injury. The reason for Sursa's withdraw is unknown and Lawal will be looking for his second victory of 2014, with his other victory this year coming at Bellator 110 against Mikhail Zayats.
The current Bellator 123: Curran vs. Pitbull II fight card is below.
Main Card: (Spike TV – 8 p.m. ET/5 p.m. PT)
Pat Curran (20-5) vs. Patricio Pitbull (21-2)
Muhammed Lawal (12-4, 1NC) vs. Dustin Jacoby (10-3)
Bobby Lashley (10-2) vs. Josh Burns (8-7)
Cheick Kongo (21-9-2) vs. Lavar Johnson (18-9)
Preliminary Card: (Spike.com – 6 p.m. ET/3 p.m. PT)
Marvin Maldonado (1-1) vs. Rico Disciullo (2-0)
Steve Garcia (4-0) vs. Kin Moy (4-0)
Mike Wessel (14-7) v s. Josh Diekmann (14-5)
Tamdan McCrory (11-3) vs. Brennan Ward (9-2)
Perry Filkins (8-1) vs. Dan Cramer (10-4)
Mike Mucitelli (6-1) vs. Mark Griffin (3-3-1)
Phillipe Martins (0-1) vs. Pete Rogers Jr. (1-1)
Brandon Fleming (3-2) vs. Blair Tugman (5-5)
Lucas Cruz (7-2) vs. Andrew Calandrelli (6-4)
Scott Cleve (14-4) vs. Matt Bessette (13-5)