Bellator 126 took place on Friday night at the Grand Canyon University Arena in Phoenix, Arizona and the card was headlined by Brandon Halsey submitting Alexander Shlemenko in 35 seconds to win the Bellator middleweight title.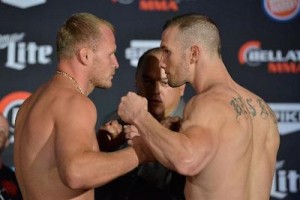 According to Nielsen sources, Bellator 126's preliminary live viewership landed at 656,000 total viewers and this is down 11 percent from Bellator 125's preliminary viewership number of 742,000.
The peak of the broadcast came at 10:53 p.m. ET, which was during the main event and had 942,000 viewers.
With the viewership from Friday night, the average for season eleven is now at 709,000 and this is up nearly 4 percent from the season ten main card average of 683,000. It should be noted that the first four shows of season ten earlier this year had an average of 684,000 and the fourth show of season ten came in with 507,000.
The television ratings for the eleventh season of Bellator are below.
Bellator 123:
Live+SD: 667,000 with peak of 979,000
+3 DVR: 777,000 with peak of 1,193,000
Bellator 124:
Live+SD: 771,000 with peak of 1,271,000
+3 DVR: 836,000 with peak of 1,429,000
Bellator 125:
Live+SD: 742,000 with peak of 1,120,000
+3 DVR: 796,000 with peak of 1,250,000
Bellator 126:
Live+SD: 656,000 with peak of 942,00
+3 DVR: Will be available later this week
Stay with TheMMAReport.com for ongoing coverage of the Nielsen ratings battle between Bellator MMA and the UFC.