KSW 29 will take place on December 6th in Krakow, Poland and the promotion has announced a triple-header of main attractions with Mamed Khalidov and Michal Materla as well a heavyweight bout between Mariusz Pudzianowski and Pawel Nastula.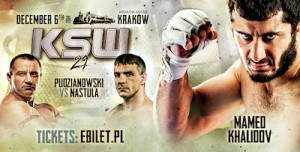 The fight card was announced by KSW in a press release on Thursday and the event will be streamed worldwide in its entirety on www.kswtv.com.
It was originally announced that Materla was going to face Melvin Manhoef on this fight card. However, an opponent for Materla was not listed in the press release and sources have told TheMMAReport.com that Manhoef is no longer part of this event. Manhoef is coming off a victory at Bellator 125 last week and his next fight will is expected to be for the Bellator middleweight title.
Following our report, KSW CEO Martin Lewandowski sent a statement to TheMMAReport.com that the withdrawal of Manhoef has not been decided at this time and they are working with Bellator President Scott Coker to resolve this.
"Melvin Manhoef's withdrawal from KSW 29 has not been decided yet," Lewandowski said. "We are currently in talks with Bellator's CEO Scott Coker and Manhoef's manager to resolve the situation. I can confirm that there is indeed a scheduling issue, but Melvin still has a valid contract with KSW and we are willing to keep our part of agreement with the fighter and his representatives."
Stay tuned for updates on this story and the current KSW 29 fight card is below.
Main Card:
Mamed Khalidov (29-4-2) vs. TBD
Michal Materla (20-4) vs. TBD
Mariusz Pudzianowski (7-3) vs. Pawel Nastula (5-5)
Piotr Strus (9-3-1) vs. Abu Azaitar (9-2-1)
Goran Reljic (13-4) vs. Tomasz Narkun (9-1)
Mateusz Gamrot (7-0) vs. Lukasz Chlewicki (12-3-1)
Artur Sowiński (14-7-1) vs. TBD
Preliminary Card:
Karol Celinski (11-5-1) vs. Tomasz Kondraciuk (11-4)
Robert Radomski (11-3) vs. Mateusz Piskorz (9-2)