Darrion Caldwell remained undefeated last week with a decision victor at Bellator 130 and after starting his career 6-0 as a featherweight, Caldwell is planning to move down to bantamweight.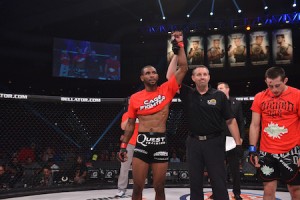 Caldwell told TheMMAReport.com his intentions on moving down to the 135 pound division in an interview that will air on Friday's edition of The MMA Report Live.
"My goal is to be the world champ," Caldwell said. "Whoever I got to fight to make that happen, that is what it has to be. I am walking around at 154 (pounds) on a good day. I am definitely making sure I think about going down to 135 (pounds) here shortly. Once I get into the mix with the 135'ers, I think they will see the power I have and the speed that matches the 135'ers. We will see how it goes from there."
In terms of a timeframe to move from the featherweight division to bantamweight division, Caldwell stated he would be ready to move down as soon as possible. At this time, Caldwell has not done a test cut down to 135 pounds, but he will be doing that shortly to see how his body will handle the cut.
Be sure to check out Caldwell's appearance on Friday's The MMA Report Live, which will begin at 11 a.m. ET/8 a.m. PT.