UFC 184 takes place on February 28th from the Staples Center in Los Angeles and the UFC has released the complete fight card lineup.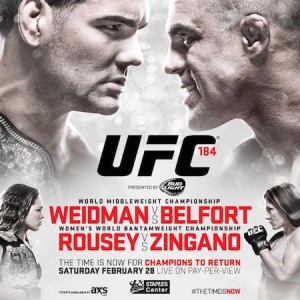 The fight card will begin with the online preliminary card on UFC Fight Pass at 6:30 p.m. ET/3:30 p.m. PT with three fights and the final four preliminary fights will be shown on Fox Sports 1 beginning at 8 p.m. ET/5 p.m. PT.
Following the conclusion of the prelims, the main card on pay-per-view will begin at 10 p.m. ET/7 p.m. PT and will be headlined by title fight as Chris Weidman defends the middleweight title against Vitor Belfort.
The current UFC 184: Weidman vs. Belfort fight card is below.
Main Card: (PPV – 10 p.m. ET/7 p.m. PT)
Chris Weidman (12-0) vs. Vitor Belfort (24-10)
Ronda Rousey (10-0) vs. Cat Zingano (9-0)
Jacare Souza (21-3, 1NC) vs. Yoel Romero (9-1)
Josh Koscheck (17-8) vs. Jake Ellenberger (29-9)
Holly Holm (7-0) vs. Raquel Pennington (5-4)
Preliminary Card: (Fox Sports 1 – 8 p.m. ET/5 p.m. PT)
Tony Ferguson (17-3) vs. Yancy Medeiros (11-2, 1NC)
Mark Munoz (13-5) vs. Roan Carneiro (19-9)
Richard Walsh (8-2) vs. Alan Jouban (10-3)
Kid Yamamoto (18-6, 1NC) vs. Roman Salazar (9-3)
Preliminary Card: (Fight Pass – 7 p.m. ET/4 p.m. PT)
Derrick Lewis (11-3, 1NC) vs. Ruan Potts (8-3)
James Krause (21-6) vs. Valmir Lazaro (12-3)
Masio Fullen (9-4) vs. Alexander Torres (2-1)