UFC Fight Night 61 took place on Sunday night in Brazil and was headlined by former UFC heavyweight champion Frank Mir snapping a four fight losing streak with a first round knockout victory against Antonio "Bigfoot" Silva.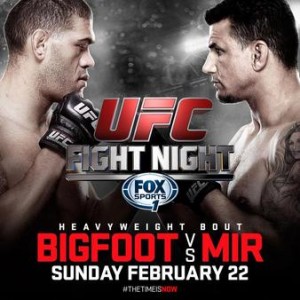 According to Nielson sources, the main card broadcast on Fox Sports 1 had an average live audience of 1.2 million viewers making it the fifth most-watched UFC Fight Night on Fox Sports 1 to date. In addition, the fight card was up 35 percent above the UFC Fight Night average to date on the network (900,000).
The peak of the broadcast came from 8:45 p.m. ET – 9:00 p.m. ET with 1,392,000 total viewers and among the A18-49 demo, the main card was up 29 percent over the average of UFC Fight Night's to date (726,000 vs. 561,000). In terms of other key demographic numbers, the fight card drew .81 P18-14, 1.16 M18-49, and 1.23 M18-34 during the main card broadcast.
Prior to the main card, the televised preliminary card also aired on Fox Sports 1 and averaged 813,000 viewers, with 442,000 in the A18-49 demo from 6:00 p.m. ET – 8:00 p.m. ET. This is 51 percent increase in viewership (vs. 537,000) and a 40 percent jump in A18-49 (315,000) compared to the performance of FOX Sports 1 UFC Fight Night prelim cards to date.
Following the UFC Fight Night, Fox Sports Live averaged 312,000 viewers from 10:58 p.m. ET – 12:00 a.m. ET, a 164 percent rise above the February 2014 average of Fox Sports Live in the 11:00 p.m. ET – 12:00 a.m. ET slot (118,000). Among the A18-49 demo, the increase was up 353 percent (204,000 vs. 45,000). Overall, FOX Sports 1 was the number six network in ad-supported cable and number one ad-supported cable sports network in prime on Sunday.
The UFC will return to Fox Sports 1 on Saturday with the UFC 184 preliminary card and stay tuned to TheMMAReport.com for more updates on MMA TV ratings.