Titan FC 33: Night of Champions will take place next month in Mobile, Alabama and the promotion has announced the venue for the weigh-ins.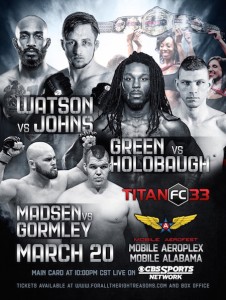 The weigh-ins will take place on the deck of the USS Alabama and will begin at 4 p.m. CT on March 19. Along with the weigh-ins, the event on March 19 will feature a wide array of special guests and activities.
"Mobile AeroFest continues to bring together the best and brightest in our region to produce a world class event to support our nation's veterans—it is very fitting that the weigh-in for the Titan/Titan FC fight will take place on the USS Alabama," said AeroFest Co-Founder, Dave Glassman. "We are incredibly grateful to the Alabama for her hospitality—we are looking forward to a great event which will draw veterans, VIPs and the general public from all over the nation."
Titan FC COO Lex McMahon added: "Titan FC and AeroFest have teamed up to produce an MMA event that in many ways makes history for all the right reasons—to support and honor our nation's heroes. Kicking things off on the deck of the Alabama, an iconic setting that is so closely tied to everything that AeroFest is all about, is the ideal place to officially begin AeroFest 2015."
Titan FC 33: Night of Champions will be shown live on CBS Sports Network at 11 p.m. ET on March 20 and will feature title fights in the heavyweight, lightweight, featherweight, and bantamweight divisions.