Following his exit from Bellator, lightweight LaRue Burley has a new home as he has signed with RFA and will meet T.J. Hepburn at RFA 25 on April 10 in South Dakota.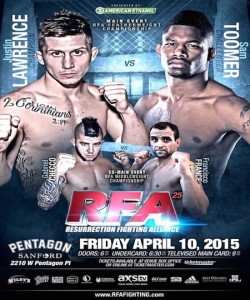 The signing and fight booking was recently announced by RFA.
RFA 25 will come from the Sanford Pentagon in Sioux Falls, South Dakota and will be headlined by Justin Lawrence defending the promotions featherweight title against Sam Toomer.
Burley (5-0) went 3-0 in Bellator as he scored victories over Bubba Jenkins, Cliff Wright, and Raymond Pina. Two of those wins came by stoppage and this will be his first fight since his exit from Bellator. Hepburn (4-0) has won three of his four fights by stoppage and two of his career wins have come in RFA. His most recent fight came in November as he defeated Danny White by submission.
The current RFA 25: Lawrence vs. Toomer fight card is below.
Justin Lawrence (6-2) vs. Sam Toomer (9-0) – FW Title Bout
Gabriel Checco (8-1) vs. Francisco France (11-3-1) – Vacant MW Title Bout
Abel Cullum (20-6) vs. Josh Rave (24-11)
LaRue Burley (5-0) vs. T.J. Hepburn (4-0)
Khalil Rountree (2-0) vs. Cameron Olsen (2-0)
Jordon Larson (5-1) vs. Jarrod L'Heureux (7-1)
Devin Clark (3-0) vs. Jaquis Williams (5-2)
Matt Lopez (3-0) vs. Devin Turner (2-2)
Nate Schussier (0-0) vs. Nate Flanders (0-0)