The Titan FC 33 Weigh-Ins took place today in Mobile, Alabama and the fight card is now official eleven fights.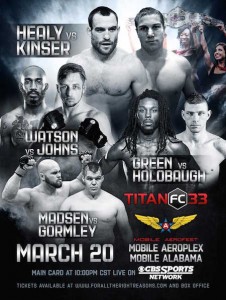 Today's weigh-ins came from the USS Alabama and tomorrow night's fight card will come from Mobile AeroFest.
The fight card will be headlined by a title fight as Desmond Green (145 lbs) defends the Titan FC featherweight title against Kurt Holobaugh (145 lbs) and he needed to cut his hair to make weight for the fight.
Titan FC CEO Jeff Aronson told The MMA Report about Green cutting his hair to make weight and Green sent a tweet about the decision to cut his hair.
@Jason_Floyd sacrifices for the better cause buddy…nobody's taking my strap

— Toon (@predatortoon) March 19, 2015
Three fighters on the preliminary card did not make weight with the fighters being Austin Lyons, Keith Johnson, and Estevan Payan. All three fighters have been fined an undisclosed portion of their purses and the fines will go to their opponents.
The complete Titan FC 33 weigh-in results are below.
Main Card: (CBS Sports Network – 11 p.m. ET/8 p.m. PT)
Desmond Green (145) vs. Kurt Holobaugh (144.5) – FW Title Fight
Jon Madsen (222.6) vs. Chase Gormley (264.2) – HW Title Fight
Pat Healy (154.8) vs. Kurt Kinser (153.8) – LW Title Fight
Cody Bollinger (145.6) vs. Andre Harrison (145.6)
Preliminary Card (CBSSports.com – 8:30 p.m. ET/5:30 p.m. PT)
Walel Watson (133.8) vs. Brett Johns (135) – BW Title Fight
Anthony Gutierrez (135.4) vs. Austin Lyons (136.4) *
Belal Muhammad (169.8) vs. Keith Johnson (173.4) *
Brian Davidson (145.4) vs. Estevan Payan (148) *
Marcus Edwards (156) vs. Adam Nijem (156)
Preliminary Card (Unaired – 7:30 p.m. ET/4:30 p.m. PT)
Bobby Cooper (170.2) vs. Andy Uhrich (170.8)
Robert Washington (155.8 vs. Luciano dos Santos (155.4)
* – Lyons, Johnson, and Payan have been fined a percentage of their purses by the commission for missing weight and the fines will go to their opponent.