It's April, which means that quality television is back. We've got Game of Thrones, Mad Men and Veep in our lives once again, and of course The Ultimate Fighter Brazil makes it's long awaited return to Fight Pass.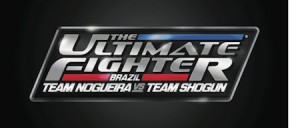 Sure, my weekly coverage of the last TUF Brazil ended mid-season with me questioning the amount of time I spend watching mixed martial arts and whether I should ever go outside.
But I'll be here to stay throughout the fourth season because there are a few fighters on the cast that should have UFC success (namely: Leandro Higo, Dileno Lopes and Nazareno Malegarie), and it'll be interesting to watch Anderson Silva and Mauricio Rua as coaches
Being that the first two episodes were just preliminary bouts to gain entrée into the Vegas house, this recap will cover both of them.
What Happened:
16 bantamweights and 16 lightweights competed against one another to advance to the next round of the show, Silva and Shogun picked their respective teams and the first bantamweight quarterfinal was announced.
Bantamweight Recap:
If there's one thing that you need to watch it's the first fight on episode one between Bruno Mesquita (4-0) against Franklyn Santos (4-0). After a minute and a half of each fighter feeling each other out, Mesquita knocked Santos out cold with a brutal spinning back kick.
Dileno Lopes (14-1) ran through Renato Monaco (10-1) in their fight, submitting him with a rear-naked choke after out-striking him, taking him down and passing to full mount and ultimately getting Monaco's back. Lopes is a significant prospect that actually lost in the preliminary round of TUF Brazil 1 to eventual winner Rony Jason.
Another highly touted prospect, Leandro Higo (13-2), made short work of Maycon Silva (7-2), submitting him with an arm triangle. Higo got an easy takedown after Silva landed some punches in the early exchanges between the two.
A matchup between fighters with similar first names ended in the first round with Matheus Nicolau (10-1-1) tossing down Mateus Vasco (12-1), evading an armbar attempt, passing to Vasco's back and sinking in a fight-ending rear-naked choke.
The best fight of the first two episodes saw Matheus Mattos (8-0-1) finish Marcos Lima (9-2) in the second by dropping him with body shots and putting away a downed Lima with a few strikes. The fight was contested on the feet throughout, and following the result, Dana White went and told Sean Shelby that he was impressed by Lima and that the Brazilian would be the first substitute into the house.
The fight between Bruno "Bulldog" Silva (8-2) and Gustavo Sedoria (4-0) was stopped by the doctor after the first. Although Sedoria made it to the end of the round, he injured his jaw from the first strike of the fight, an up-kick by Silva.
Reginaldo Vieira (12-3) was able to wrestle Peter Montibeller (7-0) to the ground, pull guard for a guillotine choke and elicit a first round tap.
Making his return to the show after being eliminated in the first season by John Teixeira, Giovanni Santos (15-1) was able to get into the house this time by winning a two-round decision over Eduardo Diez (4-0). Santos took home a close first round but was able to win more convincingly in the second by taking Diez down and landing ground and pound.
Lightweight Recap:
Nazareno Malegarie (27-3) won a unanimous two-round decision over Edson Pereira (12-2) by controlling the fight with takedowns, positional control and superior conditioning.
After dropping the first round, Glaico Franca (12-3) wrestled down Raush Manfio (6-1), escaped from a triangle choke and used his strength to beat up Manfio to lock on a rear-naked choke that elicited a tap.
Erick Da Silva (17-5) finished Gabriel Macario (3-0) in the second with ground strikes. Silva landed a clean head kick early on in the second, was able to score a takedown and eventually finish the bout with elbows and punches.
In the third round, Joaquim Silva (7-0) put away an injured and tired Carlos Costa (7-1) with strikes. Costa's arm was banged up heading into the last frame, and he spent a lot of his energy in the first two periods taunting Silva.
Adilson "Jack Godzilla" Fernandes (11-4) tapped out Arlen Viana (8-1) with an arm triangle in the second. Fernandes controlled both rounds with his wrestling.
In the sudden-death third round, Nikolas Motto (6-1) changed up his striking approach against Alexandre Cidade (11-1) by taking Cidade down and securing the fight with positioning and ground strikes.
Also in the third, Fernando Bruno (15-2) earned a finish by tapping out Bruno Murata (6-0) with a rear-naked choke. Murata broke his hand in the first round and was forced two use primarily kicks for the latter portion of the fight.
The last fight of episode 2 saw Andre "Dede" Ricardo (3-1), a friend of Anderson Silva, get a much-needed finish late in the second after he dropped Jeferson Negrini (10-0) with a brutal body kick and teed him with a couple of strikes.
Team Selection:
Team Silva
Bantamweights: Matheus Mattos (1st), Leandro Higo (3rd), Reginaldo Vieira (5th) and Bruno Silva (7th)
Lightweights: Andre Ricardo (1st), Nikolas Motta (3rd), Erick da Silva (5th) and Fernando Bruno (7th)
Team Shogun
Bantamweights: Matheus Nicolau (2nd), Dileno Lopes (4th), Bruno Mesquita (6th) and Giovanni Santos (8th)
Lightweights: Nazareno Malegarie (2nd), Glaico Franca (4th), Joaquim Silva (6th), Adilson Fernandes (8th)
Fight Announcement:
Mauricio Rua won the coin toss by Antonio Rodrigo Nogueira, and he elected to pick the first. The first fight that he selected was a bantamweight bout between Matheus Nicolau and Team Silva's Reginaldo Vieira.