UFC Fight Night 67 will take place on May 30 from Goiania Arena in Goiania, Goias, Brazil and the fight card lineup has been announced by the UFC.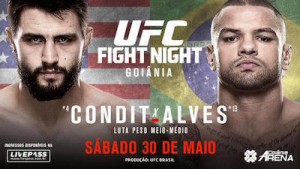 The preliminary card will begin with two fights on Fight Pass at 7 p.m. ET/4 p.m. PT and the final four preliminary bouts will be shown on Fox Sports 1 beginning at 8 p.m. ET/5 p.m. PT.
Following the conclusion of the preliminary card, the main card on Fox Sports 1 will start at 10 p.m. ET/7 p.m. PT and will be headlined by a welterweight bout as former interim UFC welterweight champion Carlos Condit meets former title challenger Thiago Alves.
The current UFC Fight Night 67: Condit vs. Alves fight card lineup is below.
Main Card: (Fox Sports 1 – 10 p.m. ET/7 p.m. PT)
Carlos Condit (29-8) vs. Thiago Alves (21-9)
Nik Lentz (27-6-2, 1NC) vs. Charles Oliveira (19-4, 1NC)
Yan Cabral (12-1) vs. K.J. Noons (13-7)
Francimar Barroso (16-4) vs. Ryan Jimmo (19-4)
Wendall Oliveira (24-8) vs. T.J. Waldburger (16-9)
Francisco Trinaldo (16-4) vs. Norman Parke (20-3-1)
Preliminary Card: (Fox Sports 1 – 8 p.m. ET/5 p.m. PT)
Rony Jason (15-5) vs. Damon Jackson (9-1)
Jussier Formiga (17-3) vs. Wilson Reis (19-5)
Elizeu Zaleski dos Santos (14-4) vs. Nicolas Darby (13-0)
Lucas Martins (15-2) vs. Mirsad Bektic (9-0)
Preliminary Card: (Fight Pass – 7 p.m. ET/4 p.m. PT)
Juliana Lima (7-2) vs. Ericka Almeida (7-0)
Tom Breese (7-0) vs. Luiz Dutra (11-3-1)