Andrew Todhunter was scheduled to face Albert Tumenov in the opening bout of the UFC 188 preliminary card on Saturday, but he has been pulled from the event after being deemed medically unable to compete.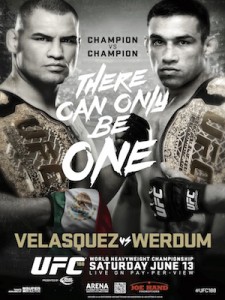 The UFC announced Todhunter was out of the event in a statement on late Thursday evening.
"Welterweight newcomer Andrew Todhunter has been deemed medically unable to compete in his UFC 188 bout against Albert Tumenov this Saturday in Mexico City," the UFC statement said. "There will be no replacement bout, and the card will proceed with 11 matches."
On Friday morning, Todhunter's management team, Guardian Sports Management released a statement on their fighter being out of the event and stated that Todhunter passed out while trying to make weight.
Team Guardian fighter Andrew Todhunter has been forced to withdraw from his fight Saturday at UFC 188 in Mexico City, due to injury.

The unbeaten welterweight was previously scheduled to make his Octagon debut at the event. But the UFC doctor deemed him unable to compete.

"This is a really unfortunate situation, but health is the No. 1 priority," Team Guardian cofounder and CEO Charles McCarthy says.

"Andrew was excited as anyone I've ever seen to make his UFC debut. But I know he'll be back soon and he'll make a major impact when he is.

"We'd like to thank the UFC for this tremendous opportunity and also apologize to them and the fans, who I know are really excited to see Andrew step into the Octagon, for this unfortunate situation."

Unfortunately, he passed out trying to make the weight. The UFC officials saw there was a problem and alerted the medical professionals, who began administering IV fluid.

He's feeling better now, fortunately, and hopefully the UFC gets him back on the schedule ASAP.
With this fight now being off the card, the event will now start at 7 p.m. ET/4 p.m. PT with two preliminary bouts on Fight Pass before the televised preliminary card on FX at 8 pm. ET/5 p.m. PT.
The current UFC 188: Velasquez vs. Werdum fight card is below.
Main Card: (PPV – 10 p.m. ET/7 p.m. PT)
Cain Velasquez (13-1) vs. Fabricio Werdum (19-5-1)
Gilbert Melendez (22-4) vs. Eddie Alvarez (25-4)
Kelvin Gastelum (10-1) vs. Nate Marquardt (33-14-2)
Yair Rodriguez (4-1) vs. Charles Rosa (10-1)
Tecia Torres (5-0) vs. Angela Hill (2-0)
Preliminary Card: (FX – 8 p.m. ET/5 p.m. PT)
Henry Cejudo (8-0) vs. Chico Camus (14-5, 1NC)
Efrain Escudero (23-9) vs. Drew Dober (15-6, 1NC)
Alejandro Perez (15-5) vs. Patrick Williams (7-4)
Frank Trevino (12-0) vs. Johnny Case (20-4)
Preliminary Card: (Fight Pass – 7 p.m. ET/4 p.m. PT)
Augusto Montano (15-1) vs. Cathal Pendred (16-2-1)
Clay Collard (14-5, 1NC) vs. Gabriel Benitez (17-4)