The Titan FC 34 Weigh-Ins took place today in Kansas City, Missouri and bantamweight champion Brett Johns has been stripped of his title after missing weight.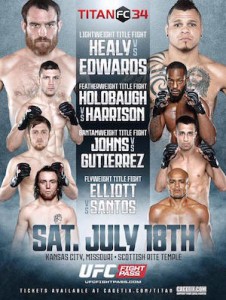 Today's weigh-ins came from the Scottish Rite Temple and same venue will host tomorrow's fight card.
Johns missed weight by nearly two pounds and Titan FC CEO Jeff Aronson informed The MMA Report that Johns has been stripped of the 135 pound title. His fight against Anthony Gutierrez will remain on the card and if Gutierrez wins the fight, he will become the Titan FC bantamweight champion.
Titan FC 34 will feature three other title fights and all of the fighters in those fights made weight. The event will be headlined by Pat Healy defending the lightweight title against Marcus Edwards, who stepped up on five days notice to replace Mike Ricci in the fight.
The Titan FC 34: Healy vs. Edwards weigh-in results are below.
Pat Healy (154.6) vs. Marcus Edwards (154.3)
Kurt Holobaugh (144.7) vs. Andre Harrison (144.2)
Brett Johns (136.8) vs. Anthony Gutierrez (133.5)
Tim Elliott (124.7) vs. Iliarde Santos (124.9)
Freddy Assuncao (145.1) vs. Cody Bollinger (145.9)
Zak Bucia (169.6) vs. Jose Landi-Jons (170.2)
Jason Witt (159.4) vs. Isaac Vallie-Flagg (159)
Gerald Meerschaert (183.8) vs. Lucas Rodolfo Bresolin Rota (184.8)
Desmond Green (151.3) vs. Vincent Eazelle (151.8)
Dakota Cochrane (164.8) vs. Mike Bruno (160.5)
William Joplin (134.8) vs. Andrew Whitney (135.4)
Cody Peterson (136) vs. Joseph Fulk (134.2)