No matter what sport we are talking about, the biggest lessons that an athlete will learn from are defeats. That is no different for middleweight Andrew Sanchez, who will be fighting for the RFA middleweight title tonight in St. Louis.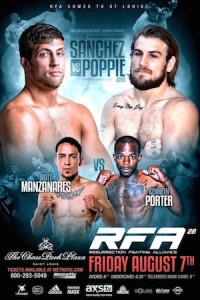 Fourteen months ago, he stepped into the RFA cage in Southern California with a professional record of 5-1 and was facing Kevin Casey for the vacant middleweight title. The fight would not go his way as he was defeated by knockout at the 2:30 mark of the opening round.
Following that fight, Sanchez (6-2) realized that he needed to make some changes to become a better mixed martial artist. The major change for him came in the training room as he went to work on his striking defense.
"Ever since that fight against Kevin Casey, the lost that I got knocked out in. I took a step back and I knew I had to change something," Sanchez told The MMA Report. "I can't be getting knocked out. This is not right. I took a step back and I looked at what I do wrong. I just did not focus on to much defense on my feet. Without defense and if you are getting hit all the time, it takes away your confidence. So I was always kind of iffy on the feet. I was like, 'I have to get this takedown.' So after that fight, I focused on not getting hit and now that I don't get hit really, I am very confident on the feet. I am able to open up and I think that was the turning point. Now I really feel like I can open up with my striking. I am not worried about getting hit or knocked out. Just recently, I felt like I have hit that point."
In hindsight, is Sanchez glad this happened because it open his eyes up to the changes he needed to make to take the next step in his career?
"It sucks and I wish I could have gotten the win and still learn the same lesson," he explained. "But I got the downside of that deal. It made me so much better. I definitely look at it positively. This is a positive. I learned so much from it."
Sanchez returned to the RFA cage two months ago and scored his fourth career win by TKO/KO with a second round victory against Clinton Williams. Coming up tonight in his hometown of St. Louis, Sanchez will look to secure the RFA middleweight title when he meets John Poppie for the vacant title. When it comes to his opponent, he respects what Poppie can do. However, he believes his opponent is basic on the feet.
"He comes in, grinds people and wrestles them. He is tough, comes forward, and he is a fighter," Sanchez stated. "As far as what is dangerous, I do not know. I do not know if he thinks he is going to wear me out or beat me up against the cage. That is not going to happen. Everyone is dangerous but I can not pick one point where I think he is going to get me. He is not going to take me down. He is not going to hold me down. On the feet, he is very basic. I always respect the guys that I am fighting. He could have a crazy spinning wheel kick for all I know. I think this is a great fight overall. I think I can really open up on him."
A win tonight could end up being the victory that gets Sanchez into the UFC. We have seen multiple RFA champions end up signing with the UFC over the past two years and does Sanchez believe this is the victory that will lead to a phone call from UFC match maker Joe Silva?
"I think it's a really good chance. If I go and win impressively, I think this is a fight I can show off a little bit. If I go out there and look good, which I plan on doing. I expect a call. If not, that is ok. I love RFA and I will fight five more fights with them if I have too."
RFA 28 will come from the Chase Park Plaza in St. Louis, Missouri tonight and the main card will be shown live on AXS TV beginning at 10 p.m. ET/7 p.m. PT.