If you have been following mixed martial arts over the past couple of years, you may remember Alex Soto from his two fight stint in the UFC in 2011 and 2012.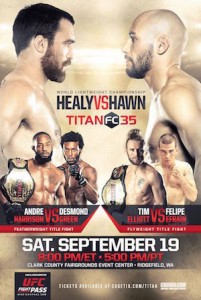 Soto (7-2-1) was unable to score a victory in the UFC as he lost to Michael McDonald and Francisco Rivera. Since the defeat to Rivera, he scored a victory in the Xplode Fight Series and will make his Titan FC debut next Saturday night against Ricky Simon.
When Soto steps into the Titan FC cage next Saturday night, it will mark his first fight in exactly 14 months (427 days). With a layoff like that, what has Soto been up to over the last year?
"I have been going through a lot actually," Soto explained on The MMA Report Live. "I have been building up a MMA team here in Bahrain. I am talking to you from this little tiny country located in the Middle East. This country of Bahrain is just east of Saudi Arabia and it's a beautiful country where I have met some folks out here. We are building this whole new MMA team. That is kind of what I have been doing and that is what I have been really busy with ever since."
Soto's last fight came in the Xplode Fight Series, which is a promotion that has been under scrutiny over the last year and Marc Raimondi of MMA Fighting recently wrote a three-part series on the promotion holding unsanctioned events.
"When I walked in there, I did not know who I was going to fight," Soto explained. "It kind of became a last minute replacement, to another last minute replacement, and another last minute replacement. All I wanted to do is come back to fighting form. It's been awhile since I fought. Let's go fight in a local promotion. Let's get back in there. It was all kind of last minute thing. Everything just kind of happened. I did not know who I was fighting until I walked into the cage."
"I understand there has been a lot of news about it, especially lately. But where else are you going to fight? If you are local guy from San Diego, the commission kind of chokes the state. If you want to make a business and be a promoter, you need to have so much money and either you need to go to the big shows or there are no small shows. It's one of those necessary evils that are in this industry. This sport is really young and it has a lot of growth to do. There are always guys that are going to try to take advantage of that kind of stuff."
Soto will be looking for back to back wins when he faces Simon at Titan FC 35. Soto signed with Titan FC for several reasons. Two of the main reasons were the fact that Titan FC is an established promotion and being on UFC Fight Pass. In addition, he loves the bantamweight roster in the promotion and is looking to make an immediate impact in the division when he faces an undefeated fighter in Simon.
"I see a young fighter that has a lot of holes in his game," Soto said. "He is a young guy and that is pretty much what I am going to do. I am going to expose his holes or his weaknesses in his game. On top of that, he is a really good athlete and he is a really good wrestler. I have a lot of respect for this guy."
"I am going to do whatever it takes to get my hand raised," he continued. "I am going to get in there and just fight because it's life or death. That is how I take each one of my fights and that is how I am going to approach this fight. Ricky seems like to be a really talented fighter and it's going to be a really fun fight to watch too. I am excited to get in there with him. Out styles are going to make for a very interesting fight."