The Bellator 143 Weigh-Ins took place on Thursday afternoon in Hidalgo, Texas and the bantamweight main event is now official as both fighters made weight.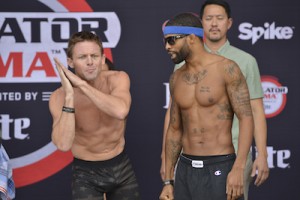 The weigh-ins came from the State Farm Arena in Hidalgo, Texas and the same venue will host tomorrow night's fight card.
The event will be headlined by a key bantamweight bout as former champion Joe Warren (135.75 lbs) meets L.C. Davis (135.75 lbs) and the winner will likely lock up a title shot.
Lightweight Ryan Couture was scheduled to be on the preliminary card, but his opponent Nick Gonzalez missed weight by 16.75 pounds. Following the weigh-ins, a Bellator official confirmed to The MMA Report that the fight has been scratched from the card and Couture will be paid his show purse.
The complete Bellator 143 Weigh-In Results and replay video is below.
Main Card: (Spike TV – 9 p.m. ET/6 p.m. PT)
Joe Warren (135.75 lbs.) vs. LC Davis (135.75)
Joey Beltran (186) vs. Kendall Grove (185.5)
Henry Corrales (145.5) vs. Emmanuel Sanchez (146)
Ewerton Teixeira (236) vs. Vinicius Queiroz (230)
Preliminary Card: (Spike.com – 6:30 p.m. ET/3:30 p.m. PT)
Ryan Couture (155.5) vs. Nick Gonzalez (172.75)
Chase Gormley (263) vs. Dan Charles (232.5)
Darrion Caldwell (135.5) vs. Shawn Bunch (135.5)
John Teixeira (146) vs. Gleristone Santos (146)
Luke Flores (155.5) vs. Gilbert Jimenez (155)
Guilherme Costa (156) vs. Jared Chaffee (155)
Bryce Mejia (171) vs. Abdul Razak Alhassan (170.5)
Saul Elizondo (135) vs. Amador Ramirez (134.75)
Steve Garcia (135.5) vs. Eduardo Bustillos (136)