Can I make a confession? I am a big Glory fan. I know, I know; this is an MMA site, not a kickboxing site. But I'd be lying if I said I wasn't excited when Scott Coker and company first announced the cross-promotional event taking place this Saturday. It serves multiple purposes for both brands, Bellator and Glory.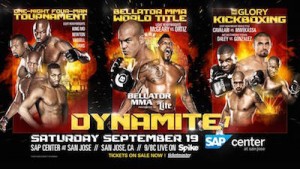 Along with promoting a one-night tournament, Bellator is further differentiating themselves in a crowded space by recalling similar tactics used during the peak of Japanese MMA. Glory gets the benefit of showcasing its product on a much larger, more established platform. It sure seems like a win-win for everybody.
However, now that we are being honest with each other, can I tell you another secret? I have absolutely no idea what to expect on Saturday night. Normally, as fight night approaches all of my questions are related to the fights themselves. Questions such as "How would fighter X stop the takedowns of fighter Y?" or "Can fighter A withstand the pressure of fighter B?"
In this case, I have so many questions about everything related to this event. Below are some of the questions that have been swirling about:
– Do members of the press have two reserved seats, one in front of each cage/ring?
– Will Tito Ortiz actually make it to fight night healthy? If so, and he loses, how many broken bones will he have fought with?
– How is it possible to get through 8 total fights, 2 of which are title fights, in 3 hours?
– What is it like to try to watch a kickboxing fight and an MMA fight at the same time?
– Why is Paul Daley fighting Fernando Gonzalez in a kickboxing bout? Shouldn't that be a number one contender's fight for the Bellator welterweight title?
– How many spinning kicks will Emmanuel Newton throw?
– How many spinning kicks will Emmanuel Newton miss?
– Will Josh Thomson regain his world class form now that he is back with old pal Scott Coker?
– Can Tito actually win another world title before he retires for good?
One thing is for sure, Saturday night in San Jose will definitely be different from anything we have seen in the fight game for some time. How different? I can't wait to find out.