Bellator 143 took place on Friday night at the State Farm Arena in Hidalgo, Texas and the card was headlined by former Bellator champion Joe Warren defeating L.C. Davis by unanimous decision.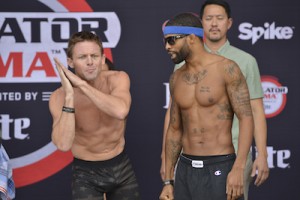 According to Nielson sources, Bellator 143's preliminary live average viewership landed at 669,000 total viewers and the show peaked at 885,000 viewers during the co-main event bout between Kendall Grove and Joey Beltran.
The main event fight between Warren and Davis averaged 777,000 viewers and the complete show drew a .19 in the People 18-34 demographic.
With the viewership from Friday night, the overall average for a Bellator event in 2015 is 773,000 viewers and the complete television history for Bellator under Scott Coker is below.
Bellator 122: 572,000
Bellator 123: 667,000
Bellator 124: 771,000
Bellator 125: 742,000
Bellator 126: 656,000
Bellator 127: 609,000
Bellator 128: 668,000
Bellator 129: 564,000
Bellator 130: 664,000
Bellator 131: 1.2 million *
Bellator 132: 767,000
Bellator 133: 565,000
Bellator 134: 872,000 *
Bellator 135: 607,000
Bellator 136: 655,000
Bellator 137: 594,000
Bellator 138: 1.6 million *
Bellator 139: 764,000
Bellator 140: 722,000
Bellator 141: 666,000
Bellator 142: 800,000 *
Bellator 143: 669,000
* – Tent Pole Event