Bellator 144 will take place on Friday at the Mohegan Sun Arena in Uncasville, Connecticut and the card will be headlined by a vacant middleweight title fight as former champion Brandon Halsey meets Rafael Carvalho.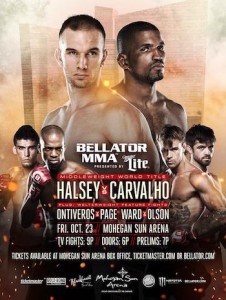 The coverage of the fight card will begin Thursday on Bellator.com as the weigh-ins will come from the Mohegan Sun Casino and will begin at 5 p.m. ET/2 p.m. PT.
The fight card will kick off on Friday at 6:50 p.m. ET/3:50 p.m. PT with the online preliminary card on Spike.com and will feature Matt Bessette returning to the promotion to meet Kevin Roddy in a featherweight bout.
Following the conclusion of the online preliminary card, the main card on Spike TV will begin at 9 p.m. ET/6 p.m. PT and calling the fights will be Sean Grande and Jimmy Smith.
The current Bellator 144: Halsey vs. Carvalho fight card is below.
Main Card: (Spike – 9 p.m. ET/6 p.m. PT)
Brandon Halsey (9-0) vs. Rafael Carvalho (11-1)
Brennan Ward (11-3) vs. Dennis Olson (14-9)
Isao Kobayashi (18-2-4) vs. Goiti Yamauchi (18-2)
Michael Page (8-0) vs. Charlie Ontiveros (6-3)
Preliminary Card: (Spike.com – 6:50 p.m. ET/3:50 p.m. PT)
Pete Rogers Jr. (2-2) vs. Marius Enache (2-3)
Billy Giovanella (8-4) vs. Brandon Polcare (1-0)
Keenan Raymond (2-1) vs. Damien Trites (6-6)
Kin Moy (7-2) vs. Walter Smith-Cotito (3-3)
Matt Bessette (15-7) vs. Kevin Roddy (15-15)
Matt Secor (6-2) vs. Jeremie Holloway (7-0)
Sam Watford (0-0) vs. TJ Hepburn (4-1)
Ilya Kotau (1-0) vs. Kemran Lachinov (1-1)
Kevin Haley (3-3) vs. Mike Zichelle (7-3)