UFC light heavyweight champion Daniel Cormier will make his first title defense tomorrow night in the main event of UFC 192 as he is challenged by former title challenger Alexander Gustafsson.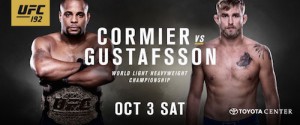 Following today's weigh-ins, Cormier was a guest on the weigh-in show on FOX Sports 1 and discussed his title defense tomorrow night.
Cormier talked about how this was a tremendous weight cut for him and check out everything he said below courtesy of FOX Sports.