Bellator 144 took place this past Friday night in Uncasville, Connecticut and was headlined by Rafael Carvalho winning the vacant middleweight title with a TKO victory over former champion Brandon Halsey.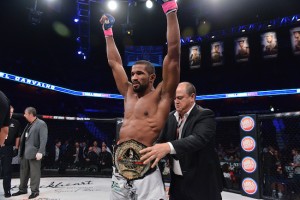 In addition to a new champion being crowned, the main card on Spike TV saw stoppage victories by Brennan Ward, Goiti Yamauchi, and Michael Page.
With the fight card in the books, the question now becomes what is next for all of the fighters on the main card? I give my thoughts on what matchup should be next for some of the fighters that competed on the main card of Bellator 144.
Rafael Carvelho:
Carvalho is now the fourth middleweight champion in Bellator history and he was the only betting underdog on the main card to score a victory. Everyone knows that middleweight is not a deep division in Bellator and options for Carvalho's first title defense are limited. I could see Bellator booking an immediate rematch with Halsey, but I like another option better.
Prediction: Hisaki Kato (if he defeats Melvin Manhoef next month)
Brandon Halsey:
Halsey appeared on his way to regaining the Bellator middleweight title on Friday night when he attempted to submit Carvalho with an arm-triangle choke. However, Carvalho would survived and capitalize on an opportunity in the second round. As I already wrote, I would not book an immediate rematch and I would put Halsey in a number one type contender fight.
Prediction: AJ Matthews
Brennan Ward:
Ward is now 3-0 in the Bellator welterweight division following a TKO victory in the first round against Dennis Olson. Since dropping to 170 pounds, all of his victories have come by first round stoppage and is clearly one of the top title contenders. During the broadcast, it was mentioned about a potential title shot. Hearing that mentioned on the broadcast makes me think that Bellator is going to book Paul Daley against Josh Koscheck.
Prediction: Andrey Koreshkov
Goiti Yamauchi:
The most impressive win on the card was the submission victory by Yamauchi. He nearly finished the fight in the first round and ended up getting the stoppage in the third round following a punch that dropped Isao Kobayashi. He is clearly one of the top title contenders in the featherweight division and he should get a number one type contender fight next.
Prediction: Pat Curran
Michael Page:
The fighter known as "MVP" put together another memorable performance as he defeated Charlie Ontiveros in the first round. Page scored a takedown and finished the fight with short elbows on the ground. Another impressive win, but the time has come for him to face some of the top welterweights currently signed by Bellator.
Prediction: Fernando Gonzalez