A new episode of UFC Ultimate Insider premiered this past weekend on FOX Sports 1 and a portion of the show went back to UFC 189 when Conor McGregor won the interim featherweight title with a stoppage victory against Chad Mendes.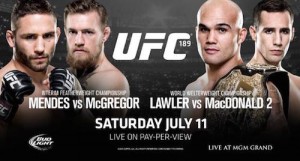 "On the Brink" gives you an inside look into McGregor's preparations for the interim title fight and behind the scene footage from fight night.
Check out the complete segment of "On The Brink: Conor McGregor" below.