The UFC 192 Preliminary Card on FOX Sports 1 took place this past Saturday in Houston, Texas and featured Yair Rodriguez defeating Daniel Hooker by decision.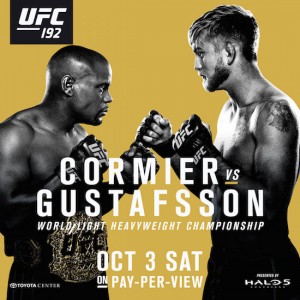 According to Nielsen sources, the UFC 192 preliminary card averaged 749,000 viewers and the card peaked at 883,000 viewers in the 9:00-9:15 p.m. ET quarter hour.
In terms of demographics, the card had 424,000 viewers in the Adult 18-49 demo, which is up 40 percent on viewership (vs. 536,000) and 56 percent among Adults 18-49 (vs. 272,000) over last October's preliminary card (UFC 179).
Prior to the televised preliminary card, the pre-fight show (7:50-8:00 p.m. ET) on FOX Sports 1 averaged 569,000 viewers and following the pay-per-view, the post-fight show aired on FOX Sports 1 at 1:00am ET with 284,000 viewers.
Below is the UFC pay-per-view preliminary card numbers in 2015 to date.
UFC 182: 1,004,000
UFC 183: 1,546,000
UFC 184: 1,205,000
UFC 185: 1,003,000
UFC 186: 710,000
UFC 187: 780,000
UFC 188: 727,000
UFC 189: 847,000
UFC 190: 1,322,000
UFC 191: 663,000
UFC 192: 749,000