UFC women's bantamweight champion Ronda Rousey sat down with FOX Sports reporter Jay Glazer on last night's edition of UFC Tonight on FOX Sports 1.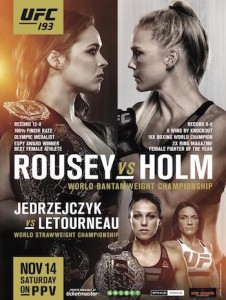 During her seven minute interview on the weekly show, Rousey talked about her upcoming title defense against Holly Holm in the main event of UFC 193 in Australia and discussed the striking aspect of this fight.
"Well, you have to strike first in order to do any grappling or clinching at all," Rousey said. "There's no skipping that. Of course, I'm going to have to out-strike her in some way or form in order to get any grappling at all. Thinking about only the end and skipping the stuff in between is a big mistake that people make and I don't intend to do that."
Check out Rousey's complete interview from UFC Tonight below.