Prior to the UFC 192 weigh-ins in Houston, the UFC held the fan Q&A with Cain Velasquez, Anthony Pettis, Henry Cejudo, Jessica Aguilar, and Tecia Torres.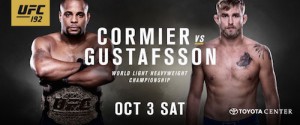 The Q&A came from the Toyota Center and the fighters took questions from the fans for nearly an hour.
The video replay of the UFC 192 Q&A with Velasquez, Pettis, Cejudo, Aguilar, and Torres is below.