Bellator 145 took place on Friday night at the Scottrade Center in St. Louis, Missouri and the card was headlined by Daniel Straus regaining the featherweight title with a decision win over Patricio "Pitbull" Freire.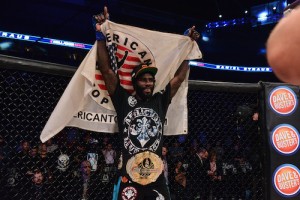 According to Nielson sources, Bellator 145's preliminary live average viewership landed at 814,000 total viewers and this is the third time this year that a Bellator card has averaged over 800,000 viewers.
When it came to the sports competition, the Bellator card went up against a NBA doubleheader on ESPN (1.423 and 1.341 million) and College Football on ESPN2 (1.080 million).
With the viewership from Friday night, the overall average for a Bellator event in 2015 is 761,000 viewers and the complete television history for Bellator under Scott Coker is below.
Bellator 122: 572,000
Bellator 123: 667,000
Bellator 124: 771,000
Bellator 125: 742,000
Bellator 126: 656,000
Bellator 127: 609,000
Bellator 128: 668,000
Bellator 129: 564,000
Bellator 130: 664,000
Bellator 131: 1.2 million *
Bellator 132: 767,000
Bellator 133: 565,000
Bellator 134: 872,000 *
Bellator 135: 607,000
Bellator 136: 655,000
Bellator 137: 594,000
Bellator 138: 1.6 million *
Bellator 139: 764,000
Bellator 140: 722,000
Bellator 141: 666,000
Bellator 142: 800,000 *
Bellator 143: 669,000
Bellator 144: 555,000
Bellator 145: 814,000 *
* – Tent Pole Event