Bellator 146 and WSOF 25 took place this past Friday night on cable television as Bellator 146 was headlined by Melvin Manhoef defeating Hisaki Kato by knockout and WSOF 25 featured Brian Foster winning the one night, eight-man lightweight tournament.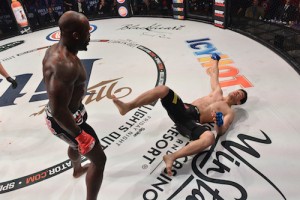 According to Nielsen sources, the Bellator card on Spike TV averaged 650,000 viewers and the WSOF 25 event came in with an average audience of 148,000 viewers.
When it came to the sports competition on Friday night, the best viewership came from the NBA doubleheader on ESPN. The early game (8 p.m. ET) between the San Antonio Spurs and the New Orleans Pelicans drew 1.393 million, while the late game (10:35 p.m. ET) between the Chicago Bulls and the Golden State Warriors had 2.853 million viewers. Other top sports programming from Friday night included College Basketball on ESPN2 (980k) and College Football on ESPN2 (966k).
With the viewership from Friday night, the 2015 average for Bellator is 753k and the WSOF average is 192k.
As always stay tuned for all the updated UFC, WSOF and Bellator television ratings right here on TheMMAReport.com