UFC Fight Night 77 took place this past weekend at the Ibirapuera Gymnasium in Sao Paulo, Brazil and was headlined by Vitor Belfort defeating Dan Henderson by TKO in the first round.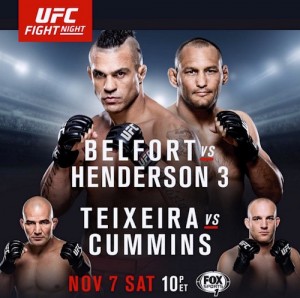 According to Nielson sources, the main card broadcast on FOX Sports 1 had an average live audience of 757,000 viewers and peaked at 875,000 viewers during the main event (12:45-12:56 a.m. ET.)
The viewership for the UFC Fight Night 77 main card was up 8 percent over the UFC Fight Night the same Saturday in 2014 (699,000, UFC Fight Night 56).
Prior to the main card broadcast, the televised preliminary card also aired on FOX Sports 1 and drew an average audience of 609,000 viewers. This is a 12 percent gain (vs. 544,000) over the average of Fox Sports 1 Fight Night Prelims (including TUF Prelims, but not PPV Prelims) to date.
On Saturday night, the UFC fight card went up against major competition in the form of college football. The game between LSU and Alabama on CBS came in with 11 million viewers and the game on ABC between Minnesota and Ohio State had over 4 million viewers.
The UFC will return to FOX Sports 1 on Saturday with the televised preliminary card for UFC 193. The prelims will begin at 8 p.m ET/5 p.m. PT and will feature a lightweight bout between Jake Matthews and Akbarh Arreola.