Undefeated featherweight AJ McKee will look for his third professional mixed martial arts win tonight on the preliminary card of Bellator 147 when he meets JT Donaldson.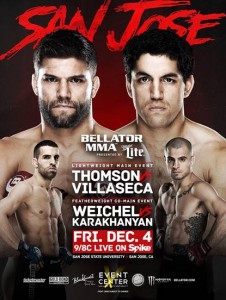 McKee (2-0) made his professional debut at Bellator 136 in April and scored a submission win in the first round against Marcos Bonilla. Following that performance, he returned to the cage in August and scored another first round victory in Bellator as he defeated James Barnes by knockout.
On Tuesday's edition of The MMA Report Podcast, McKee was a guest on the show to talk about his fight tonight at Bellator 147 in San Jose, California against Donaldson. Along with talking about his fight tonight, he discussed what it's like to have his father as his head coach.