Bellator will return on Friday night as the promotion will be at the San Jose State University Event Center in San Jose, California and the card will be headlined by a lightweight bout as Josh Thomson meets Pablo Villaseca.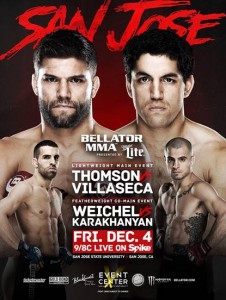 The fight card will begin at 8 p.m. ET/5 p.m. PT with the online preliminary card on Bellator.com and the five fight main card will start at 9 p.m. ET/6 p.m. PT on Spike TV.
Along with the lightweight main event, the main card will feature what is likely a title eliminator fight in the featherweight division as former title challenger Daniel Weichel meets former WSOF champion Georgi Karakhanyan.
Check out a breakdown of the five fights that will be on the main card broadcast on Spike TV.
Josh Thomson (21-8, 1 NC) vs. Pablo Villaseca (10-1)
Thomson made his Bellator debut in September and scored a submission victory over Mike Bronzoulis in the third round via an arm-triangle choke. The victory snapped a three fight losing streak and it was the first submission win for Thomson since 2010 when he defeated Pat Healy by rear-naked choke submission at Strikeforce: Fedor vs. Werdum.
15 wins by finish (5 TKO/KO, 10 Submissions).
In 2008, he defeated Gilbert Melendez by decision to win the Strikeforce lightweight title.
7 of his 8 defeats have come by decision.
Just like Thomson, Villaseca also made his Bellator debut earlier this year and he was defeated by Bobby Cooper at Bellator 139 by split decision. Following that fight, he took a fight outside the promotion at Arena Tour 7 and defeated Marcos Cornejo by armbar submission in the first round.
7 wins by finish (3 TKO/KO, 4 Submissions).
Submissions have come via armbar (2), triangle choke, and rear-naked choke.
6 victories by stoppage in 1st Round.
Georgi Karakhanyan (24-4-1) vs. Daniel Weichel (35-9)
Karakhanyan returned to Bellator at the beginning of the year and made quick work of Bubba Jenkins as he won by guillotine choke submission in the first round. He was scheduled to fight for the Bellator title earlier this year, but he had to pull out of the fight due to a knee injury.
10-1 in his last 11 fights and 6 of those wins have come by submission.
14 career victories by submission.
Former Tachi Palace Fights and WSOF Featherweight champion.
Weichel won the season ten featherweight tournament in 2014 with victories over Scott Cleve, Matt Bessette, and Desmond Green. He enters this fight following a knockout lost against Patricio Pitbull in June and the defeat snapped a seven fight winning streak.
Former M-1 Global Lightweight champion
21 wins by submission.
Tied with multiple fighters for the second most submission wins in Bellator featherweight division history.
Patricky Freire (14-6) vs. Derek Anderson (12-2, 1 NC)
Pitbull will be looking to even up the score when he meets Anderson, who defeated him by decision at Bellator 98 in 2013. Pitbull enters this fight following a decision win in August against Saad Awad and he is 3-1 in his last four fight.
Most TKO/KO wins in Bellator lightweight division history.
Tied with Saad Awad for the 5th most wins in Bellator lightweight division history.
2-time Bellator lightweight tournament finalist.
Anderson is coming off a split decision lost in August against promising prospect Brent Primus and he has dropped two of his last three fights. He is 3-2 in Bellator and he holds a knockout victory against top title contender Brandon Girtz.
11 of his 12 wins have come by stoppage (5 TKO/KO, 6 Submissions).
6 victories in the 1st Round.
Season ten lightweight tournament semifinalist.
Virgil Zwicker (14-4-1) vs. Brian Rogers (11-8)
Zwicker is unbeaten in his last three fights and is 4-1-1 in his last six fights. He is coming off a knockout win at Bellator 137 against Razak Al-Hassan and it was his first knockout victory since the end of 2013.
3-1-1 in Bellator.
Holds a TKO victory over UFC light heavyweight Ovince St. Preux.
10 wins by TKO/KO.
Rogers is moving up to the light heavyweight division for this fight and he will be looking to snap a two fight losing streak. He is 1-4 in his last five fights and four of his last six fights have gone the distance.
Tied with three other fighters for the 4th most TKO/KO wins in Bellator middleweight division history.
Competed in 4 Bellator middleweight tournaments.
Last win came in 2014 at Bellator 119 against Adrian Miles.
Adam Piccolotti (6-0) vs. Mario Soto (6-1)
The Bellator debut of Piccolotti came earlier this year and he is 2-0 in the promotion. Following a decision win against Andrew Ramm in February, the American Kickboxing Academy fighter scored a neck crank submission win at Bellator 142 against Salvador Becerra.
4 wins by stoppage (2 TKO/KO, 2 Submissions).
Submissions wins have come by rear-naked choke and neck crank.
Both of his submission wins have come in the 2nd Round.
Soto is out of Team Alpha Male and this will be his Bellator debut. He is coming off a win last year at Tachi Palace Fights 21 against Dominic Clark and all of his wins have come by stoppage.
Opened career with five straight wins before losing to Sinjen Smith by decision last year.
5 wins by submission and 4 of them have come in 1st Round.
Submission wins have come by armbar, rear-naked choke (3), and brabo choke.
The current Bellator 147: Thomson vs. Villaseca fight card is below.
Main Card: (Spike TV – 9 p.m. ET/6 p.m. PT)
Josh Thomson (21-8, 1 NC) vs. Pablo Villaseca (10-1)
Georgi Karakhanyan (24-4-1) vs. Daniel Weichel (35-9)
Patricky Freire (14-6) vs. Derek Anderson (12-2, 1 NC)
Virgil Zwicker (14-4-1) vs. Brian Rogers (11-8)
Adam Piccolotti (6-0) vs. Mario Soto (6-1)
Preliminary Card: (Bellator.com – 8 p.m. ET/5 p.m. PT)
A.J. McKee (2-0) vs. JT Donaldson (1-0)
James Terry (16-8) vs. Nick Barnes (6-0)
Thomas Diagne (5-4-1) vs. Erick Sanchez (5-2)
J.J. Okanovich (1-1) vs. Luis Jauregui (2-2)
Alvin Cacdac (15-11) vs. Jeremiah Labiano (8-3)
Jose Perez (1-0) vs. Bronson Mohika (0-1)
Adin Duenas (2-1) vs. Anthony Taylor (0-0)
Anthony Do (2-0) vs. Dustin Moore (0-0)
Idris Wasi (1-1) vs. Brandon Hester (2-0)
Khomkrit Niimi (6-7) vs. Gabe Carrasco (5-0)