UFC on FOX 17 took place this past Saturday night at the Amway Arena in Orlando, Florida and I did something that I have not done since probably like 2007, I watched the fights from the stands with the fans instead of being on press row or watching them from my house.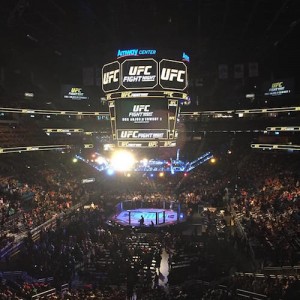 This is something that every reporter who covers this sport should do at some point. Watching the fights with people you know and don't know can give you a better idea of what people think about this sport. From which fighters are the most popular and what fights fans essentially tuned out for.
When it came to this event, I was truly there to just enjoy the fights with my friends. However, I was taking mental notes of things I saw for this article. We arrived during the televised preliminary card on FS1 and as we walked into the building, Tamdan McCrory was defeating Josh Samman. Following the victory by McCrory, I had someone ask my "why did Bellator let him go?"
Before we went to our seats, one of my friends wanted to go over to the merchandise stand. Once we got there, I noticed this particular merchandise stand was only selling one UFC jersey. That jersey was for Donald Cerrone and the price listed was $100. If you have listened to any of my podcasts, you know that I feel the price point for the Reebok apparel is way to high. If the price was $50 for that jersey, I could see more people buying it. When it came to what else was being sold, there were various UFC shirts and an autographed poster ($200). I was kind of surprised they did not have an unsigned poster for say $20.
The only fighter shirt being sold at this particular merchandise stand and I did not end up going to another merchandise stand was for Cerrone. It was a pretty basic shirt and it was signed by Cerrone in a sharpie. The price point on that was $50, which I thought was very reasonable and if you are a big Cerrone fan, I would imagine that this is something you would buy.
After leaving the merchandise stand, two thoughts came to mind on the UFC jersey being sold for $100. The first thought was how many UFC jerseys will I see people wearing and why is the fighter jersey of the challenger being sold and not the champion. When it comes to the first thought, I would only see one UFC fighter jersey being worn on the concourse and that was a Conor McGregor jersey.
When it comes to no Rafael dos Anjos jersey being potentially available at the merchandise stand, I can't say I am surprised by that. Clearly, the Amway Center was a pro-Cerrone crowd, even though there was some chants by the Brazilian fans. However, if I was part of Team Dos Anjos, I would question the UFC about that.
When it came to the fights, Cerrone and Nate Diaz got the biggest reactions from the crowd. While Diaz's post fight interview was mainly censored on television, you could hear everything he said in the arena, which the fans loved. Whether you like the Diaz brothers or not, the a majority of the fans love them because they will speak their minds and other UFC fighters need to take note of this.
On the main event, I picked Cerrone to win and a victory by him would have likely set up a big fight with McGregor. However, Dos Anjos proved me wrong once again and wasted little time in stopping Cerrone to retain the lightweight title. Once Herb Dean stopped the fight, the building started to empty, which does happen at a majority of UFC events.
On the actual ending of the fight, one thought I did have was this and it's one word: Consistency. Seven days prior, Dean gave Chris Weidman every opportunity to survive a flurry of punches on the ground against Luke Rockhold. Yes, Weidman was the champion, but shouldn't the challenger be given the same opportunities in a title fight? Just something to ponder moving forward.
Overall, it was a great night of fights and I had a great time watching the fights with the fans in attendance. Florida may not be a great MMA state in terms of attendance, but it seems like the UFC has found a great venue in the Amway Center. The venue was packed and appeared to be close to a sellout.