Titan FC 36 was scheduled to take place next Friday night from the Scottish Rite Temple in Kansas City, but the event was canceled by the promotion on Wednesday afternoon.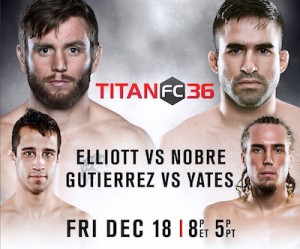 Following the announcement of the cancellation, the promotion issued a statement that said the event was being cancelled due to health complications with Titan FC CEO Jeff Aronson.
"With heavy hearts and deep regret, Titan FC has announced the cancellation of Titan FC 36 this afternoon due to health complications related to an unexpected surgical procedure CEO Jeff Aronson underwent recently," the statement said. "The event was scheduled to take place on December 18 from The Scottish Rite Center in KC, MO and stream live on UFC Fight Pass.
Titan FC's dedicated staff made every effort to go through with the card, but with Aronson away and unable to handle his duties as CEO, the promotion was logistically not prepared to move forward with Titan FC 36."
"While the cancellation of any event is the last thing any promotion wants to do, Titan FC is confident that 2016 will be an amazing year for the fans and the great fighters who have helped the organization grow into an MMA powerhouse in less than two years. The dates and venues are being worked on and a schedule of events for 2016 will be released shortly. CEO Jeff Aronson will address the fans and fighters as soon as he is physically able to do so."
Stay tuned to TheMMAReport.com and The MMA Report Podcast for updates on Titan FC.