UFC 194 took place on Saturday night at MGM Grand Garden Arena in Las Vegas and Conor McGregor made a disclosed salary of $500,000 for knockout victory against Jose Aldo to become the unified featherweight champion.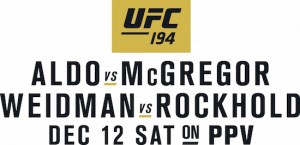 The Nevada Athletic Commission released the salaries on Monday and were sent to TheMMAReport.com by email.
Below are the complete UFC 194 salaries excluding any fees such as insurance, licenses and taxes.
Conor McGregor: $500,000 (no win bonus)
Jose Aldo: $400,000
Luke Rockhold: $160,000 (includes $60,000 win bonus)
Chris Weidman: $275,000
Yoel Romero: $150,000 (includes $25,000 win bonus)
Jacare Souza: $135,000
Demian Maia: $156,000 (includes $78,000 win bonus)
Gunnar Nelson: $75,000
Max Holloway: $90,000 (includes $45,000 win bonus)
Jeremy Stephens: $43,000
Urijah Faber: $300,000 (includes $150,000 win bonus)
Frankie Saenz: $20,000
Tecia Torres: $24,000 (includes $12,000 win bonus)
Jocelyn Jones-Lybarger: $10,000
Warlley Alves: $42,000 (includes $21,000 win bonus)
Colby Covington: $18,000
Leonardo Santos: $40,000 (includes $20,000 win bonus)
Kevin Lee: $21,000
Magomoed Mustafaev: $24,000 (includes $12,000 win bonus)
Joe Proctor: $13,000
Yancy Medeiros: $42,000 (includes $21,000 win bonus)
John Makdessi: $30,000
Court McGee: $48,000 (includes $24,000 win bonus)
Marcio Alexandre Junior: $12,000