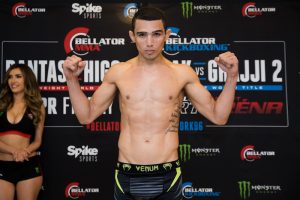 Friday night in Thackerville, Oklahoma will mark Leandro Higo's second opportunity to become a Bellator bantamweight champion as he will challenge Darrion Caldwell for the 135 pound title in the main event of Bellator 195.
You may recall that Higo's first opportunity to become a Bellator champion came eleven months ago at Bellator 177 when he stepped up on short notice to replace Caldwell against then Bellator champion Eduardo Dantas. He would end up losing a split decision against Dantas and he enters this title fight following a decision victory against Joe Taimanglo at Bellator 184.
Earlier this week, I had a chance to ask Higo five questions in a new feature here on The MMA Report, "Five Questions With" and check out what he told me about this matchup.
1. How has preparations been different for this title fight opposed to your Bellator debut against Eduardo Dantas?
Much better, this time I actually was able to prepare properly. Since I've signed with Bellator I now focus only on my training, I don't need to teach classes anymore. And this time they gave me a lot of time. I could build a foundation and then proceed with a full camp just focused on him. It was great.
2. How would you compare Darrion Caldwell's MMA wrestling to Henry Cejudo and what advice have you received from Henry and Eric Albarracin?
Caldwell's MMA wrestling is more creative, he's also bigger and a southpaw, so it's very different. Henry is a more well rounded MMA fighter who's comfortable standing up, so he doesn't rely on his wrestling, while Caldwell depends a lot on it to win his fights so he uses it more than Henry does. Eric and Henry worked on covering every hole Caldwell could look into and also on finding the wholes I can exploit. The biggest thing is that everyone that fights Caldwell is afraid of his wrestling and don't develop their games, it'll be different with me. I'll be the one dictating the fight.
3. Does it bother you that people are picking against you in this fight? Is this motivation?
Not at all, he is the champion and it's normal for people to pick the champion as the favorite. I look forward to prove them wrong.
4. What's your biggest motivation?
My son. I want to be able to provide to him everything that I never had. I want him to have a much better life than I did. Winning this title will be a great step towards that direction.
5. Everyone knows about Caldwell's wrestling, but what's your thoughts on the rest of his MMA game?
He's developed well in other areas but he still relies too much on his wrestling. He's not comfortable doing them. He can come with a flash strike here and there and a submission, but that's not something that comes naturally to him. My striking and ground game are in a higher level, and as a MMA fighter I'm much more comfortable than he is.
Bellator 195 will come from the WinStar World Casino in Thackerville, Oklahoma on Friday and check out this week's podcast to hear my interview with Darrion Caldwell.